The Continuing Adventures of

The Sterling Lady

3/20/2011

Today we had two manatees making out by the boat. They were very compassionate, and gentile to each other. Amazing!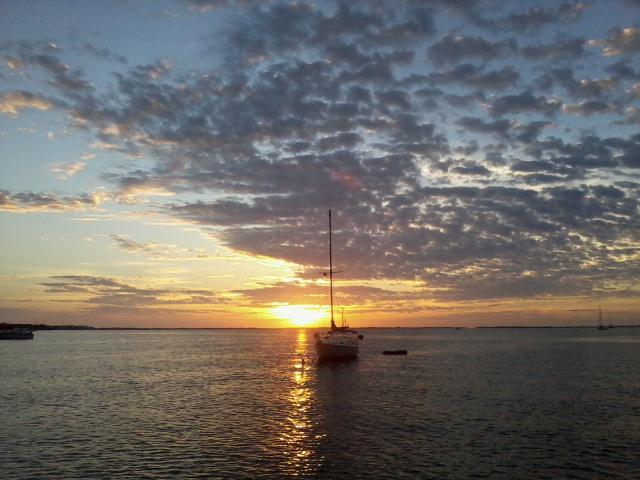 3-28-2011

Rather than show you all the pics of the things I have been fixing on the boat, please take a moment to enjoy the sunset we had tonite on a friends boat.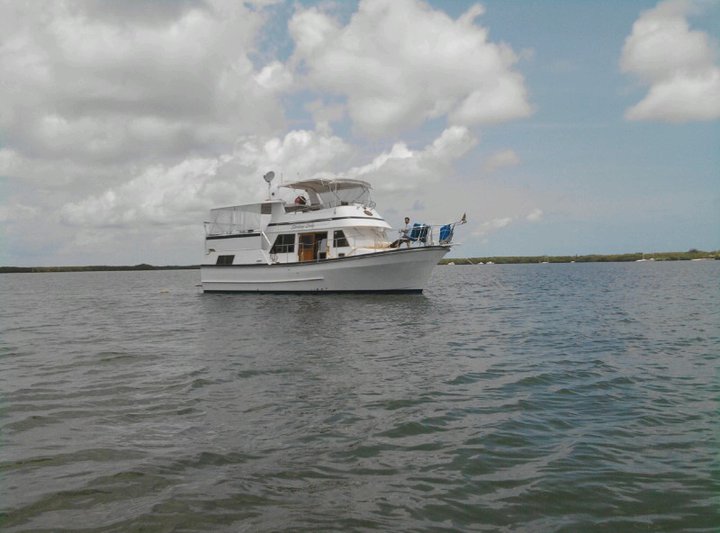 4/17/2011

After 4 months of preparation, and thousands of $$,  not to mention the 100'S of hours put in,  we took the  Lady out for a weekend sea trial.

And as sea trials go,it started off pretty bad.  Long story short, once we scraped the barnacles off the props, everything was ok.(well not EVERYTHING) We never used to get barnacles here, things have changed.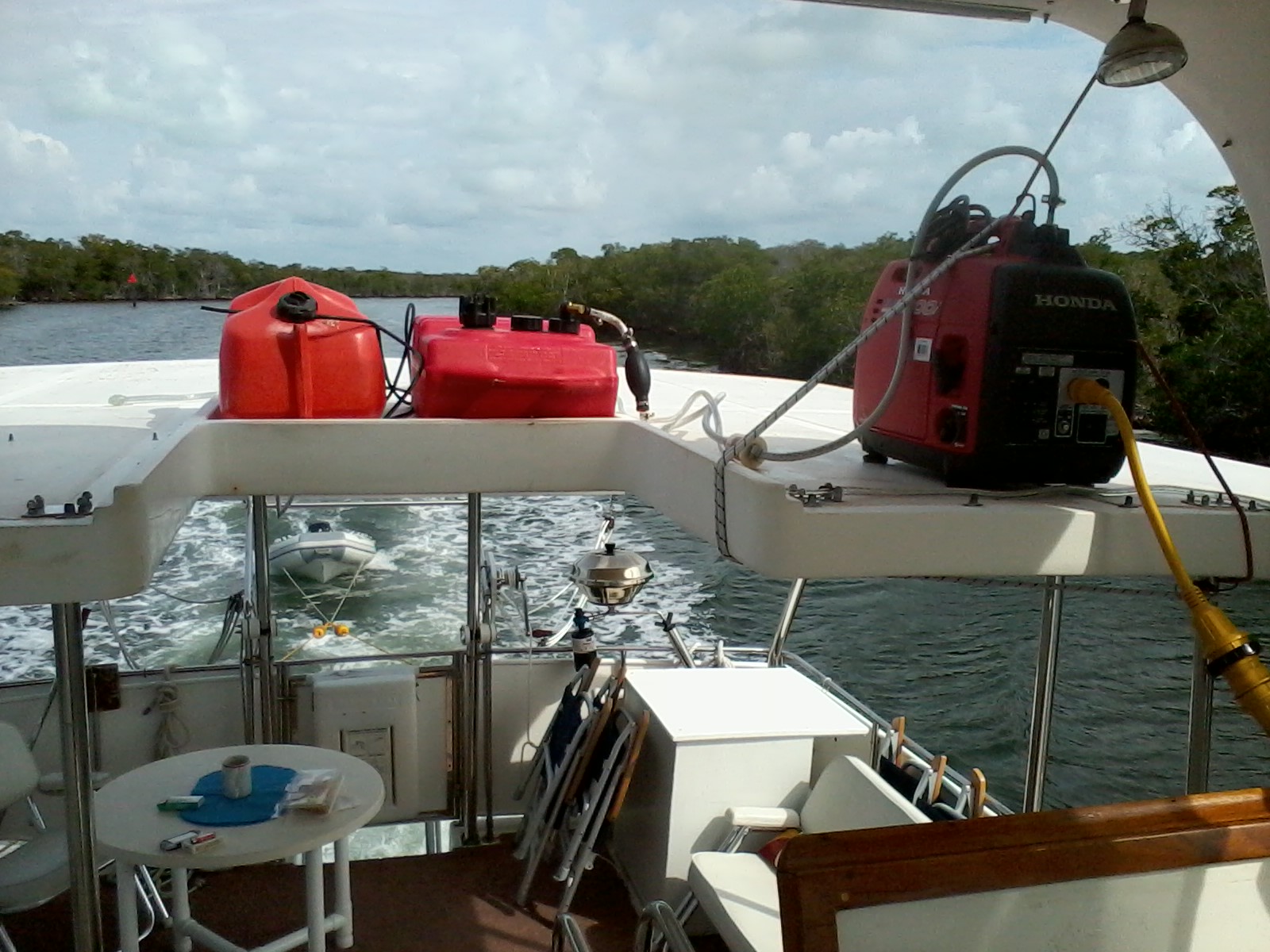 Yes we do have a Westerbeke Generator on the boat, however, we will be using this little 2,000 E Honda Quiet Generator most of the time at anchor.

Here is the set up, and notice the white removable box built over the hatch on the aft deck? Well inside that box is an 8,000 BTU window unit air conditioner, that as I sit here and type this page in cool air conditioned comfort, I can tell you works!! And all for a gallon and a half of fuel a nite.

Cost of the Honda, $900, cost of the A/c unit, $150. OH yeah, the AC box also serves as a BBQ prep table.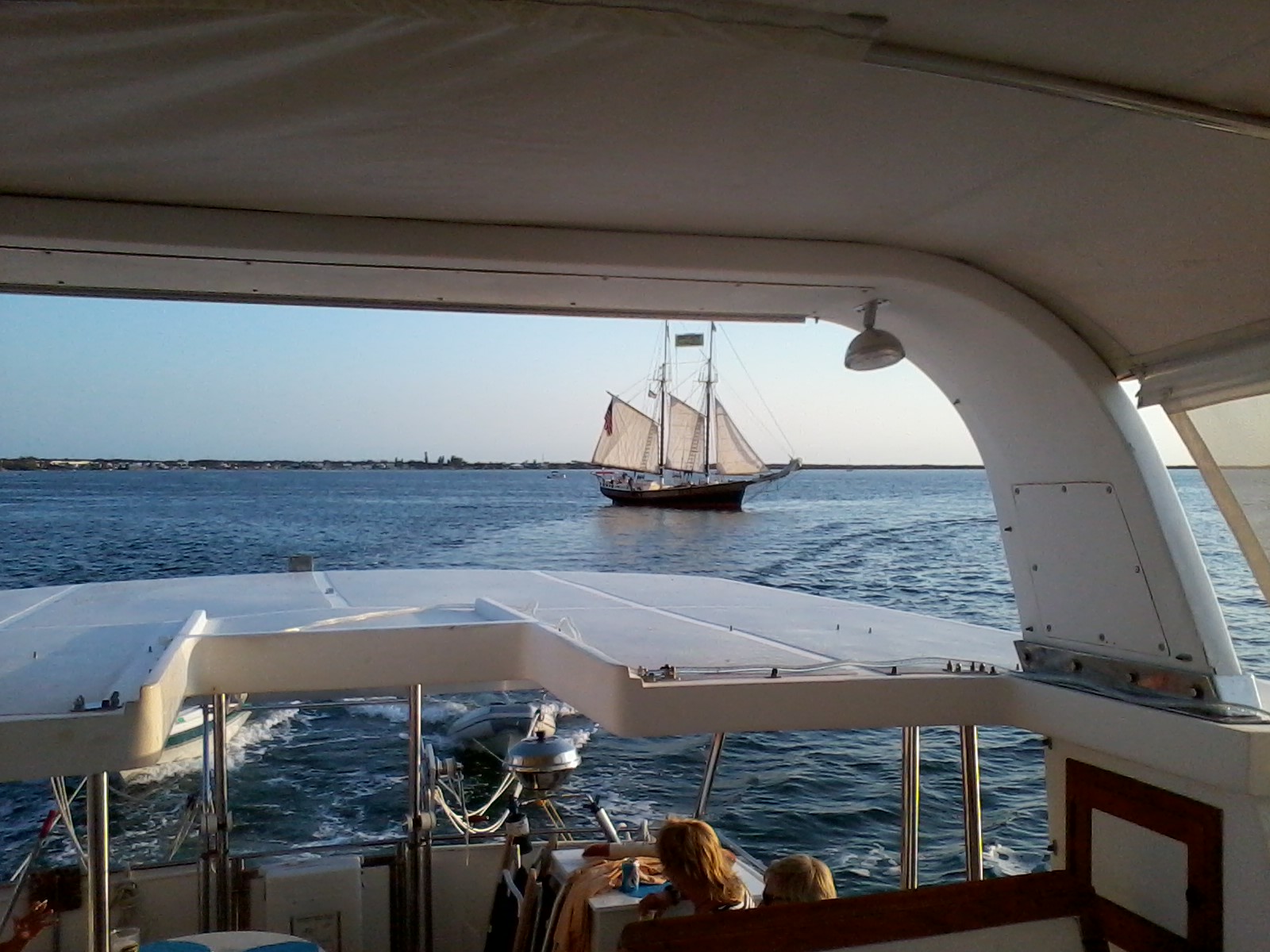 Ended our first day with an attack on the Queen Ann's Revenge! We lost.

Planned departure date for loop # 3, the perpetual loop, May 1st!! Clock is ticking!!

http://share.findmespot.com/shared/faces/viewspots.jsp?flld=0znpkmU8hsx4KgnaAafjCOHAnybdksc5H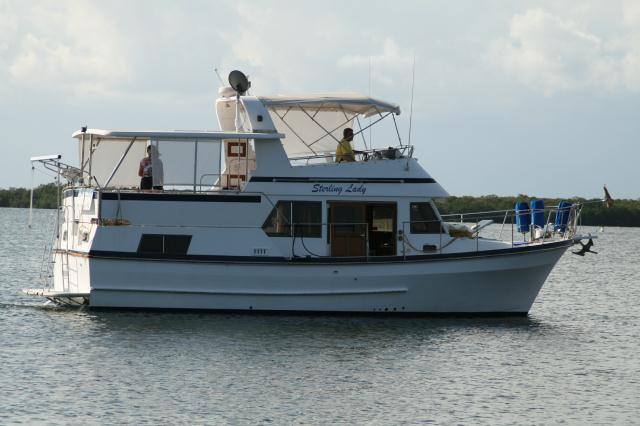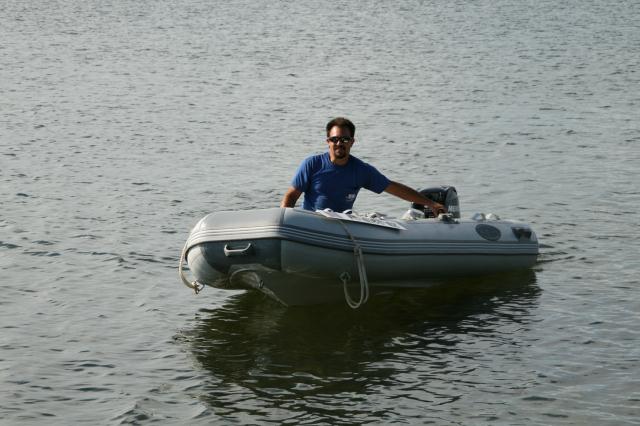 It was a sea trial for the Lady and the dinghy.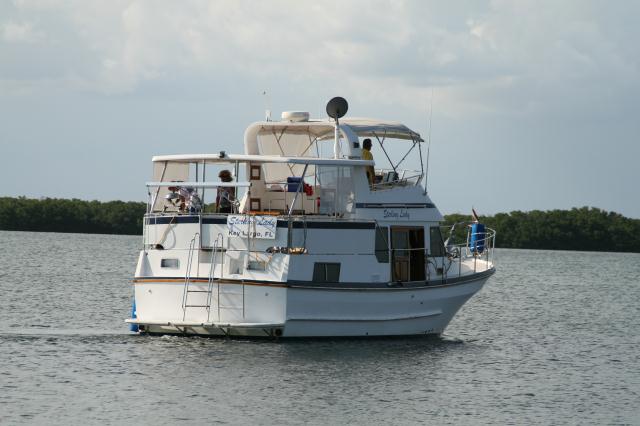 4/27/2011

Only 4 days left till Departure time!! The Admiral has been loading up supplies, lots of last minute details, trips to the hardware store, K mart (that's all we have here), and Radio Shack. Water line is getting higher and higher on the hull.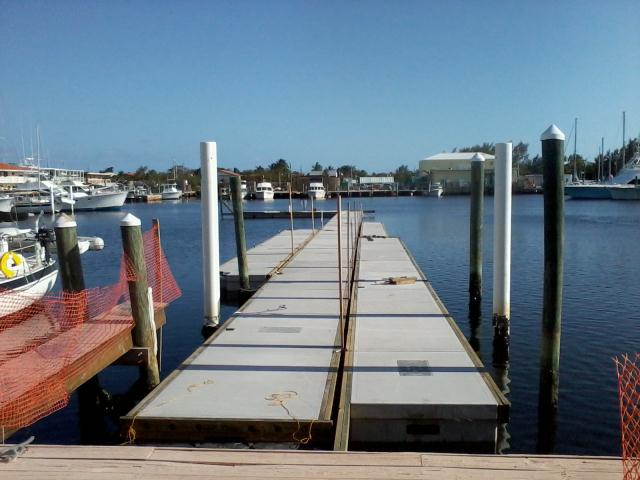 Good news for cruisers! The Pilot House Marina is adding 17 brand new fully equiped  LIVE A BOARD boat slips! Harbor Master Don is adding 3 new showers, a additional laundry room, and a Loopers Lounge, complete with AC and WiFi. This may be the New place to stop in Key Largo.

4/29/2011

Departure is Sunday, May 1st 12 Noon.  Plans are to cruise up the Erie

Canal and Canada's thousand island area for the summer. Hope to be gone 6 months IF the boat runs good, and the money dont' run out. Time will tell.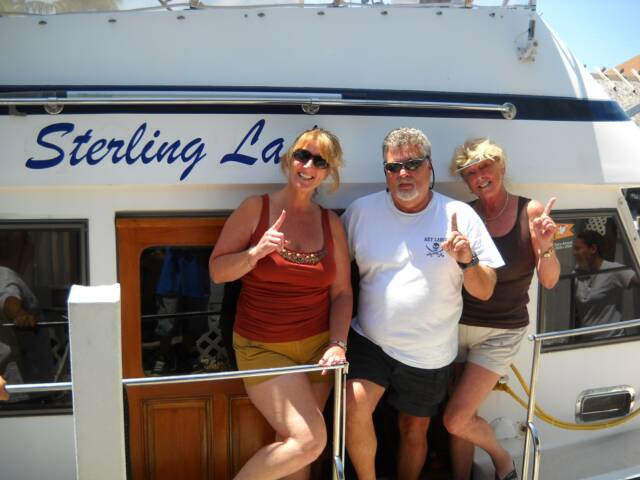 5/1/2011

Day One, departing Key largo with the babes!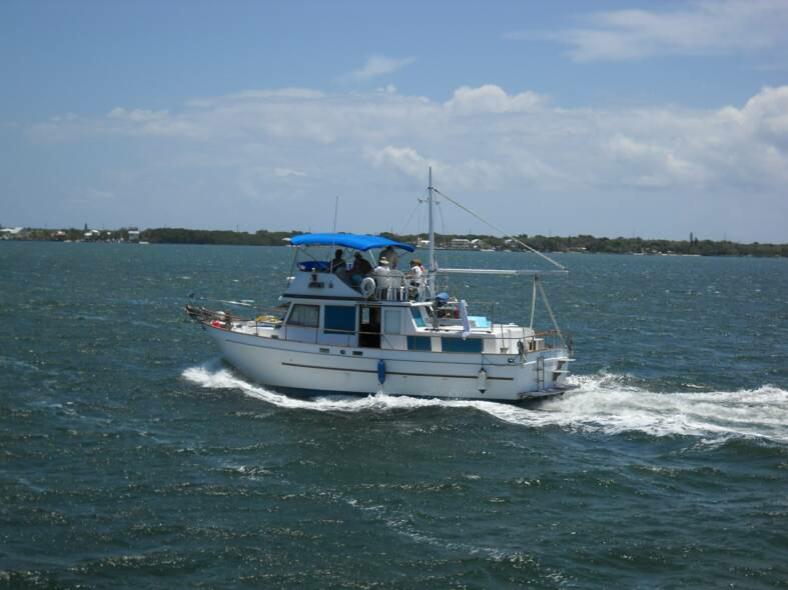 Billy and Kitty of "Bills First Aid Kit" and friends., along with John  and Sue Singleton, came out on their boats to Escort us Off!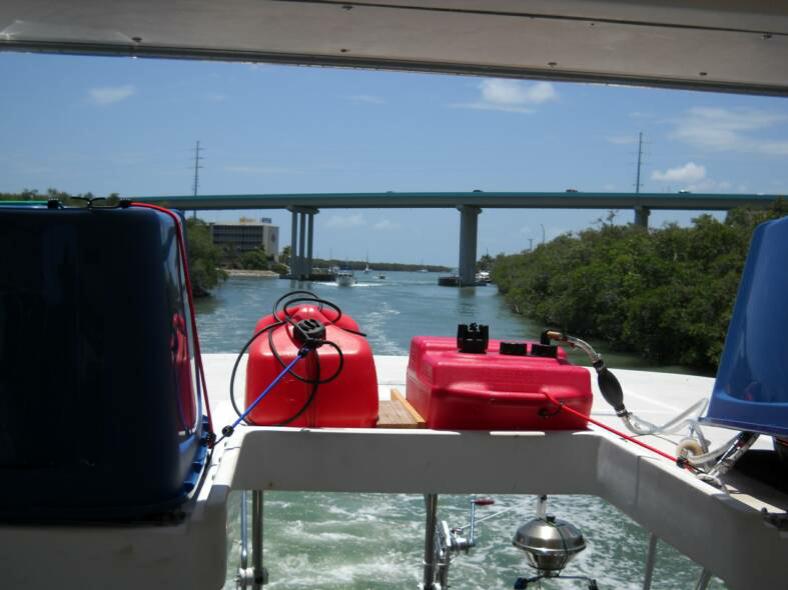 Looking back on Key Largo, hopefully ( if all goes well ) for 6 months.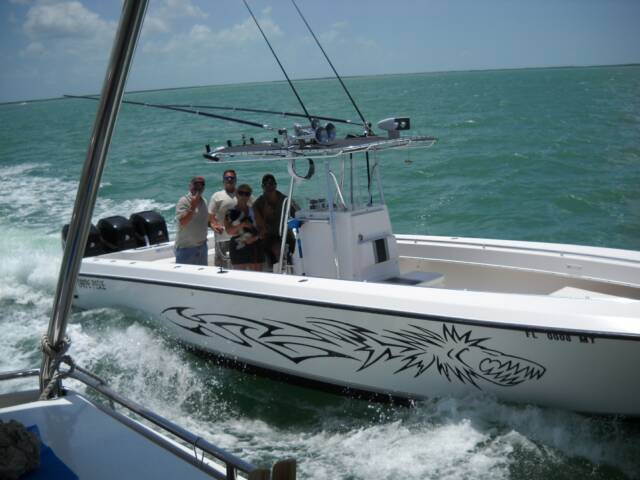 Tim, Janet, her dog "harley", Art and Jim also come out for the Escort.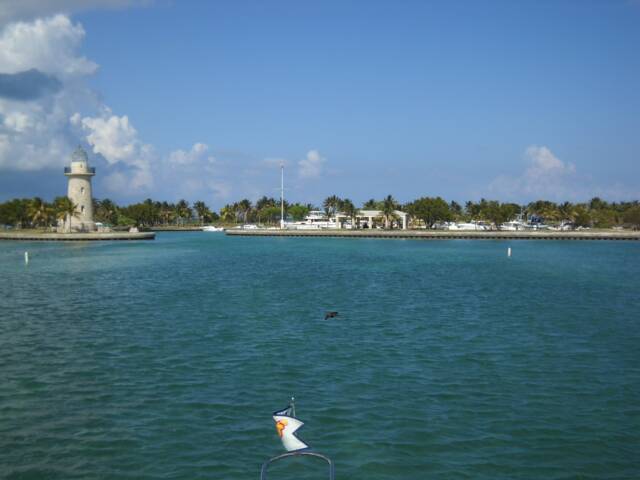 left Key Largo at 12:30, arrived Boca Chita at 4:36, meeting up the "Wheres Linda"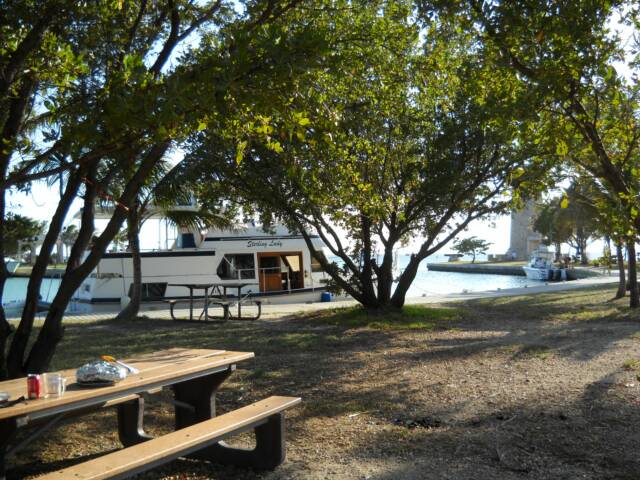 The Lady performed Flawlessly, ( Not Braggin, just proud). The day ended with BBQ at the Boca Chita Park.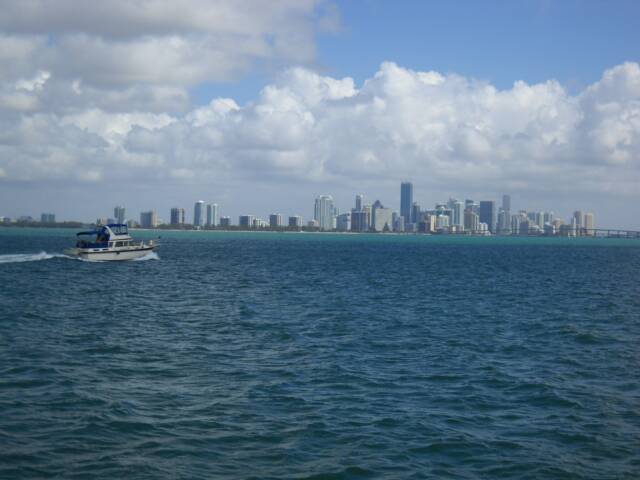 5/2/2011

Twas blowin, 15 gusting to 20 , out of the East (on the Starboard side) , Which believe it or not, is not awful in Biscayne Bay. Bit rolly, as we followed "Where's Linda" into Miami.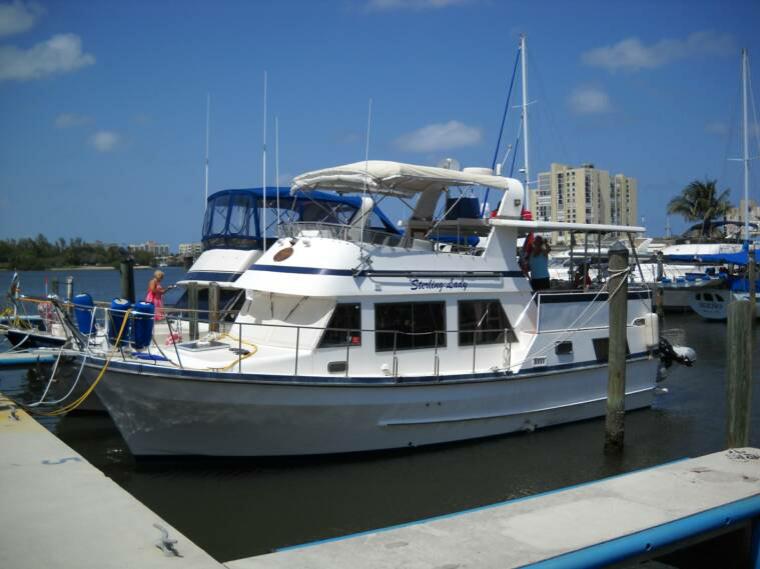 After a few bridge delays,  5 hours later we arrive at Hollywood Marina. Had BBQ Hamburgers, beans and corn, cooked on the aft deck BBQ, and oh yah, a few libations!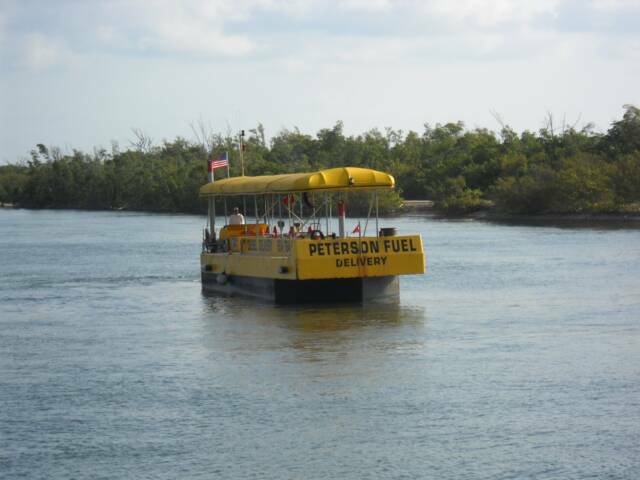 5/3/2011

First thing , after leaving Hollywood Marina, located the Petersons Fuel Barge, anchored at Dania. Cheapest place to fuel up , so we did.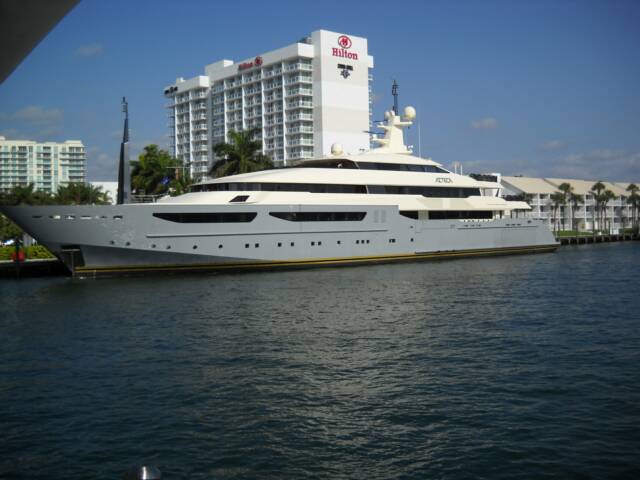 All I gotta say is, "who the hell are these people???"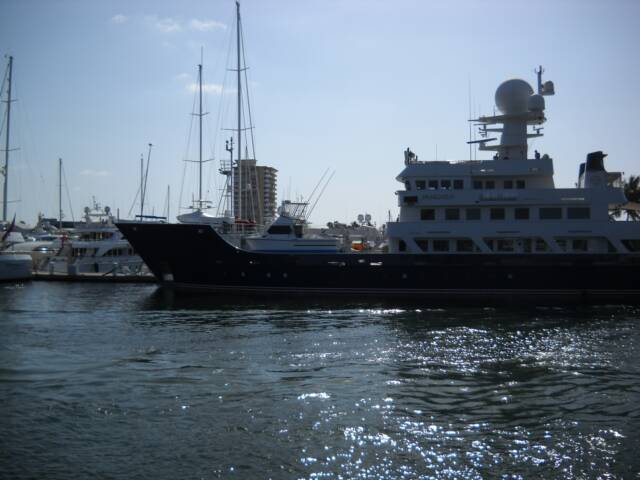 This guy, who ever he may be, gets first prize for best dinghy, a 29 foot sport fish, resting on the bow.. dang!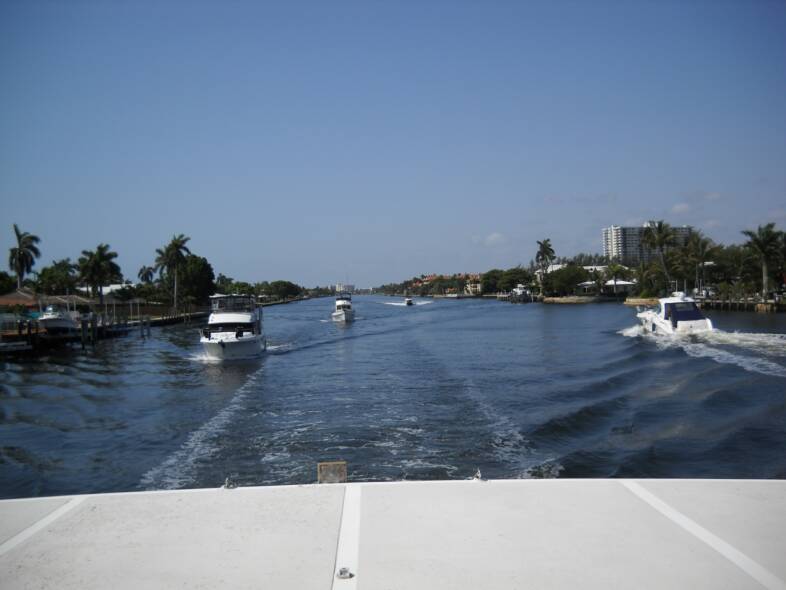 Good news is, this year , I have seen more boat traffic, and more new home construction.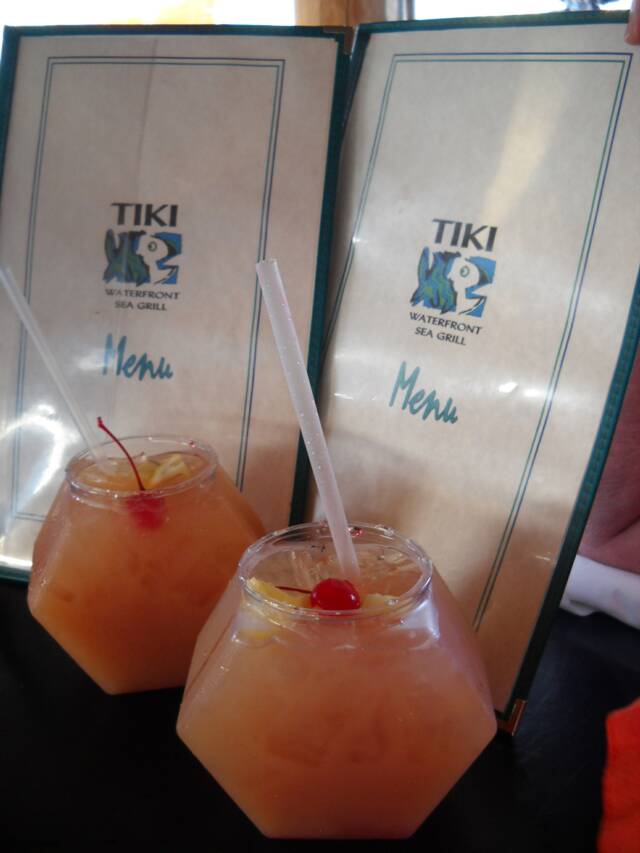 Judy's daughter Vicki, on board with us from Key Largo, and lives in West Palm Beach, (which has a

Tike bar)

so we stopped at Riveara Beach Marina to drop her off at home. The girls had  4 of these $13 drinks, needless to say, they slept well that nite.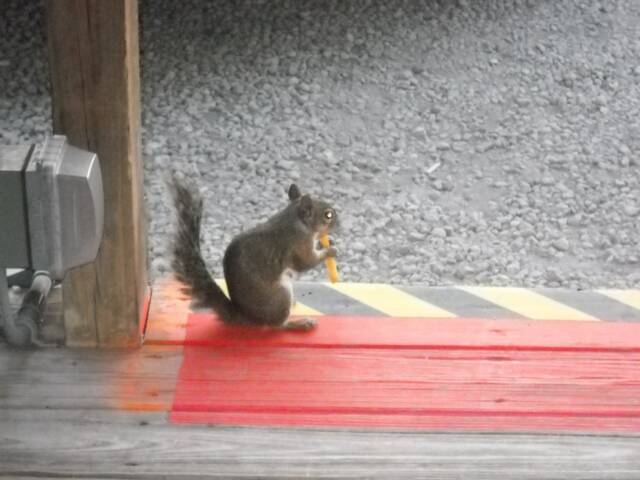 At the bar, I fed the Squirel, french fries.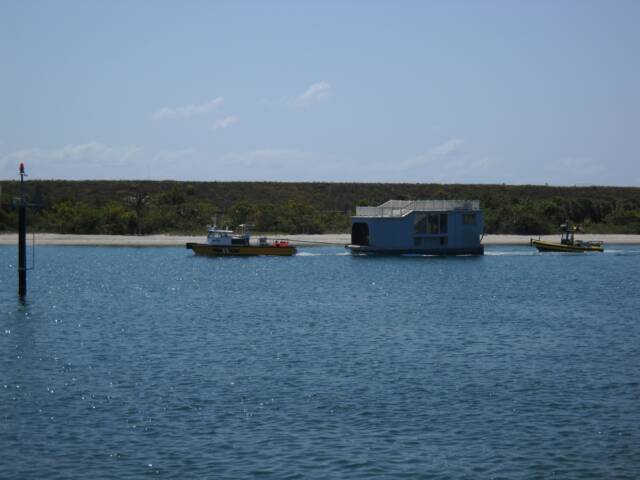 How to move , without actually packing up.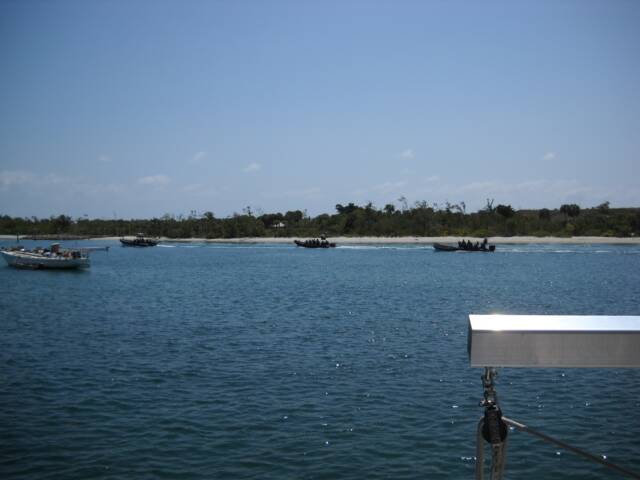 Our government , today , staged a fake attack on a mega yacht with these three boats.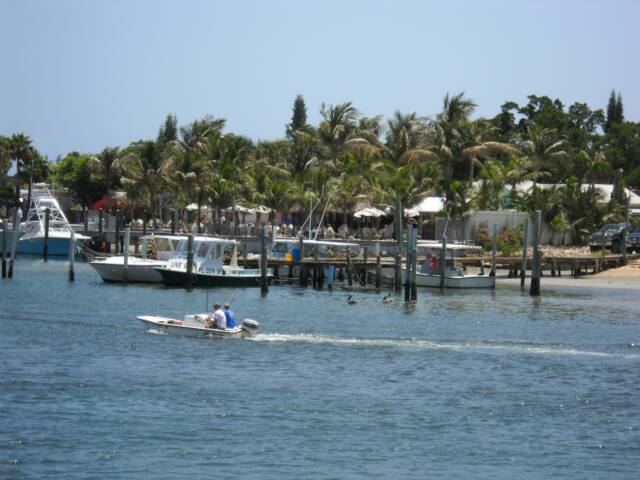 Behind these trees is the Square Grouper Bar, where the video 5 o Clock somewhere, by Kenny Chesney, and Jimmy Buffet.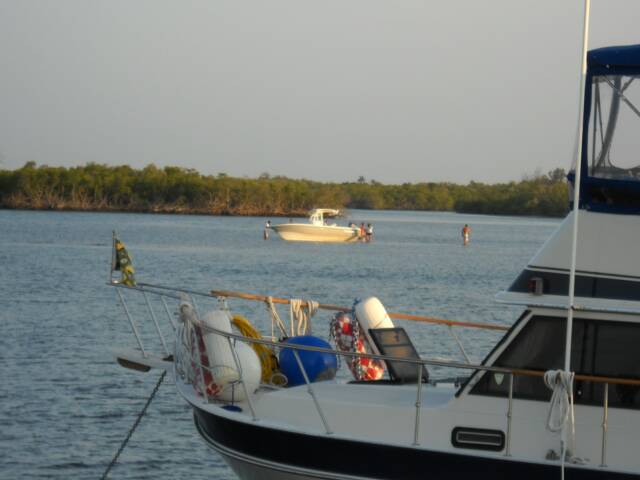 5/4/2011

Today we anchored at Pecks Lake, had dinner with

Pete and Linda and our entertainment for the evening was watching these 6 people try and get off a shoal .  They were Major aground, as you can see they are standing in ankle deep water at the boat. They eventually got towed off. After sunset.

Cruising Rule # 345

If you leave you windows and hatches open at nite, It will rain@!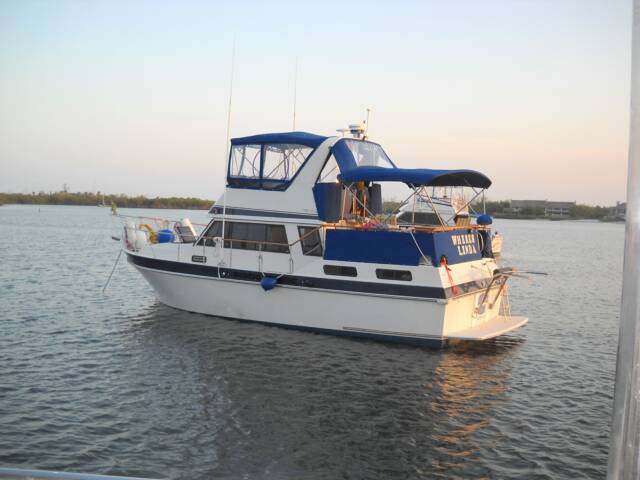 5/5/2011

Anchored in a very crowded Pecks Lake, Holding sucked, long story short, don't go there with any weather.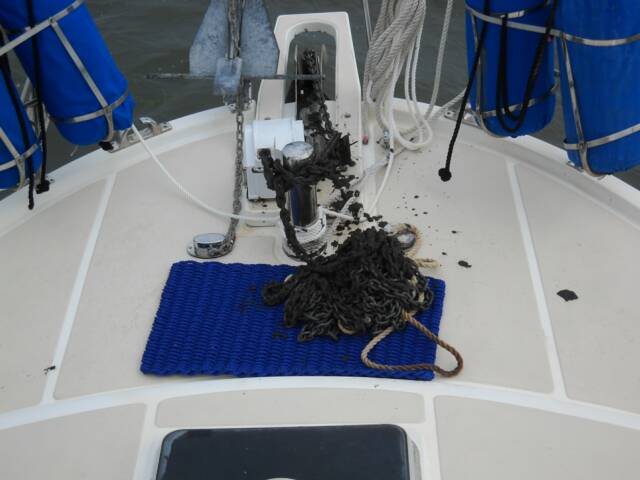 The only storms in Florida tonite where here over Pecks lake. Several boats dragged anchor, we got lucky and held, however, Pulling the anchor was VERY muddy. Check out the anchor chain on the deck.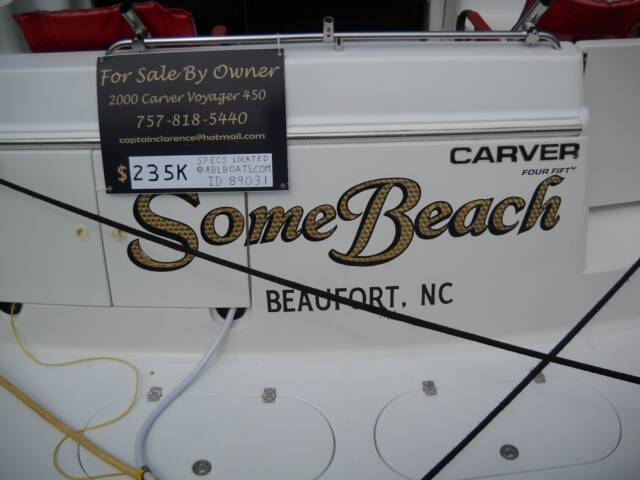 Another Boat name for the Boat name Department.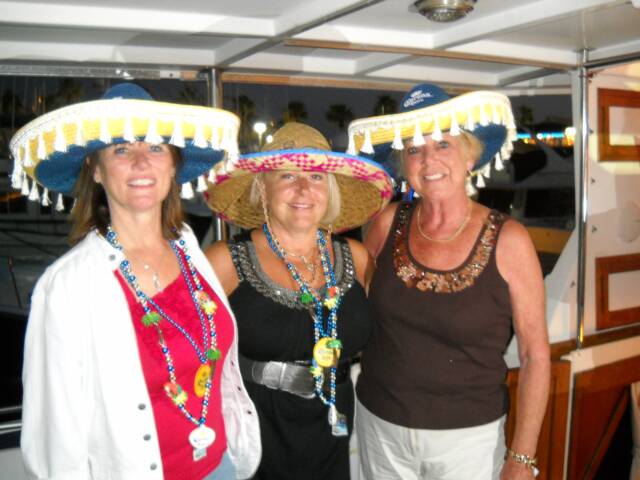 Another Cinco De Mayo with the Babes!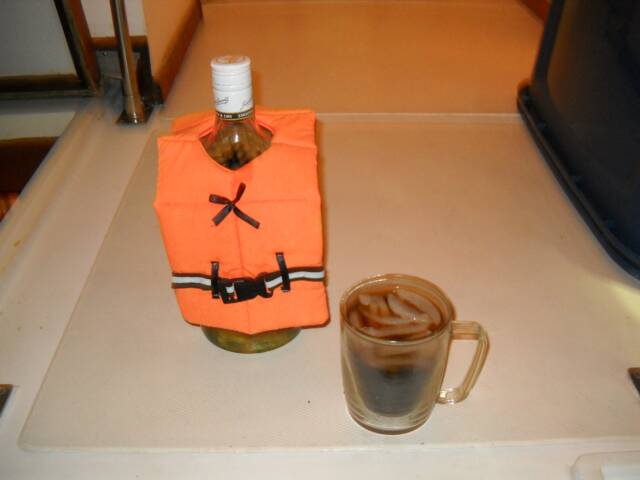 The admiral and I seldom wear life jackets on the boat. However, Just to show you where our priority's are, we do make sure the Rum don't sink.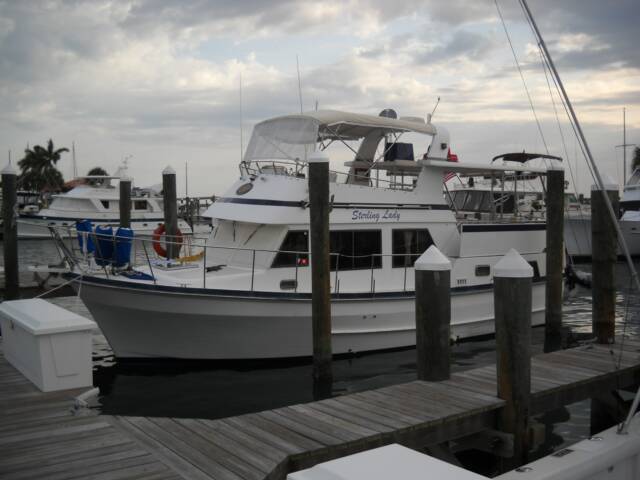 Our slip at Fort :Pierce City Marina.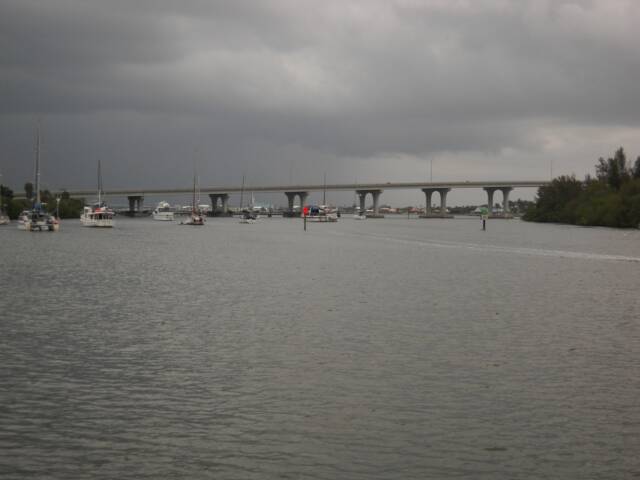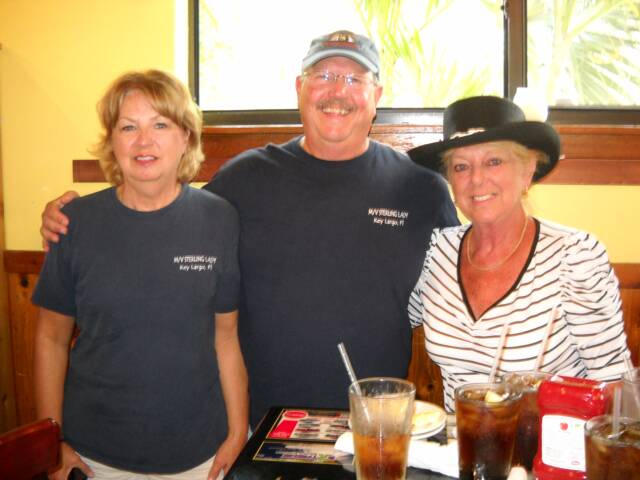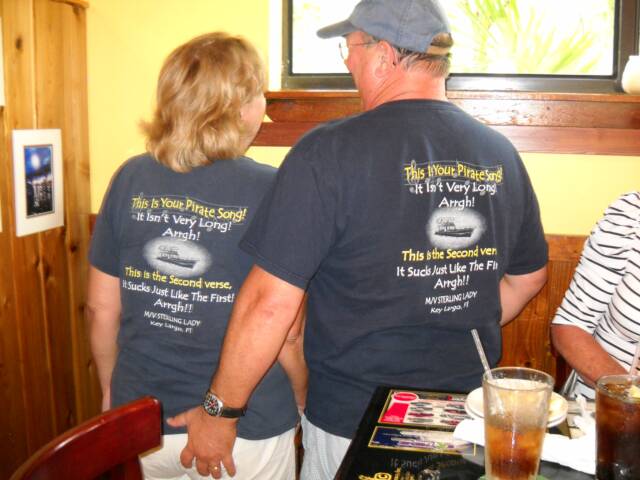 Had Happy Hourz with Micky and Karen, front view.                         Aft View,, (ignore the hand)

                                                                                     Nice Shirts!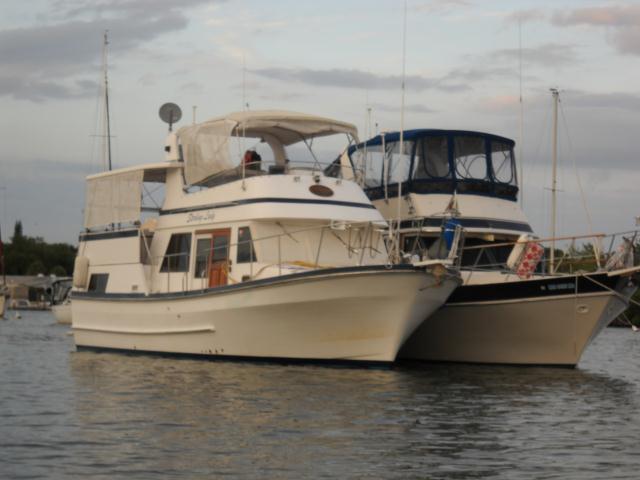 And after happy hourz, off to bed, rafted next to Where's Linda

5/7/2011

The Boat Pix photo copter circled us twice taking pictures.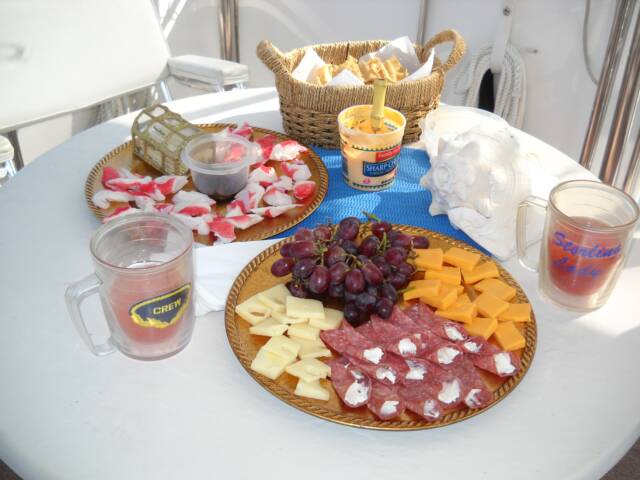 The Admiral, Judy, has a real knack for magically bringing fantastic snack trays

from the galley during get together's.

When you where a kid, remember the house whose Mom always had koolaid and cookies??

Hence, the Sterling Lady has a Nick name, the "Koolaid Boat"

Tonite we anchored off Cocoa.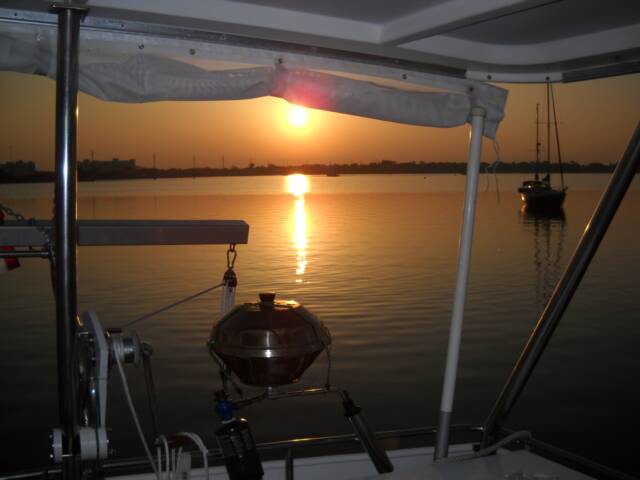 Sunrise off Cocoa Beach, Fl.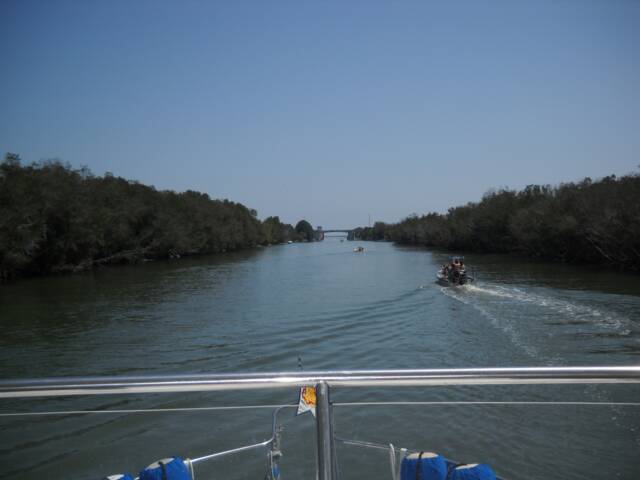 Being Sunday, there is lots of boat traffic in the Haulover Canal.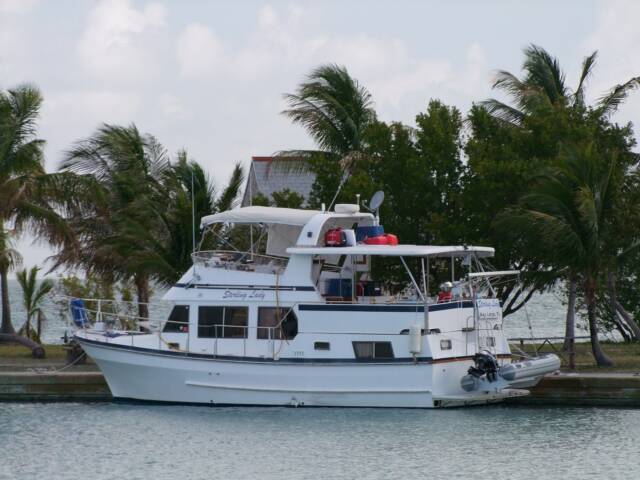 5/9/2011

These pictures are going to be totally out of text, timming wise, however, Linda just gave em to me and they are great! This is the Lady at Boca Chita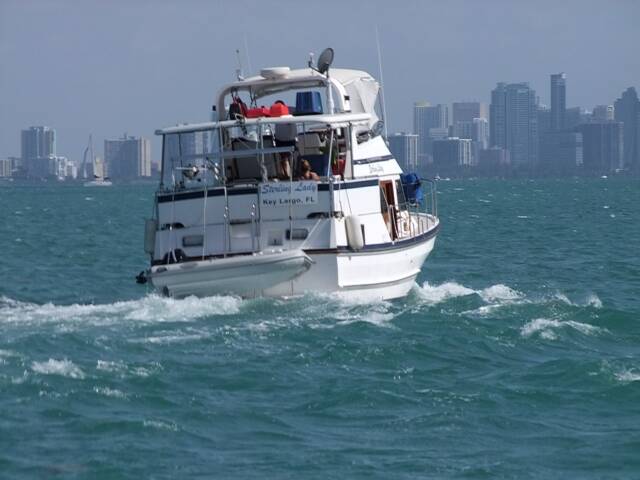 Comming to Miami, and yes it was a bit rough!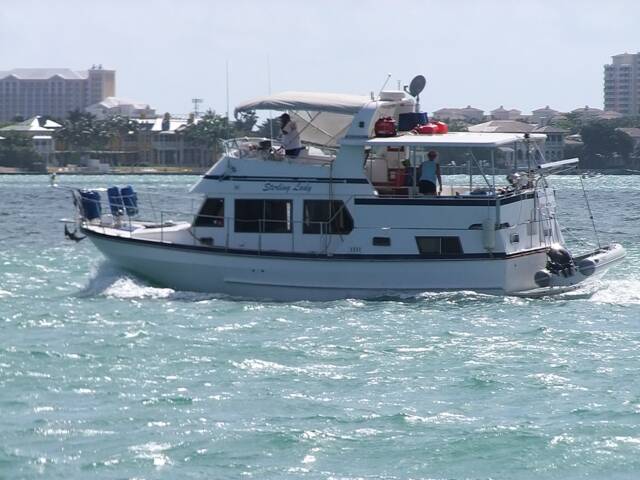 Nice side shot of the lady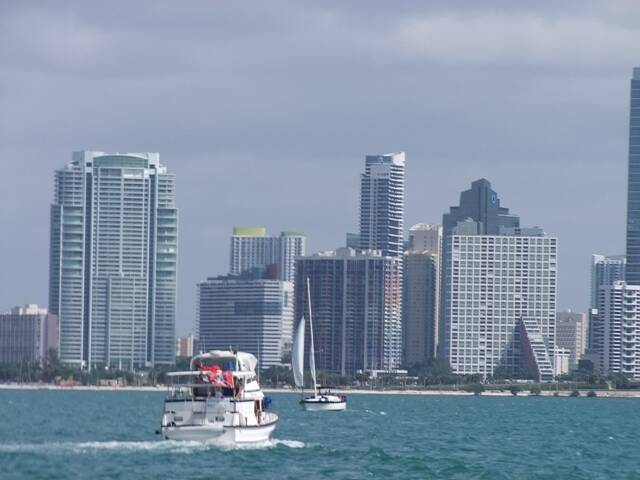 Cruising thru Miami , like no where else in the Planet!!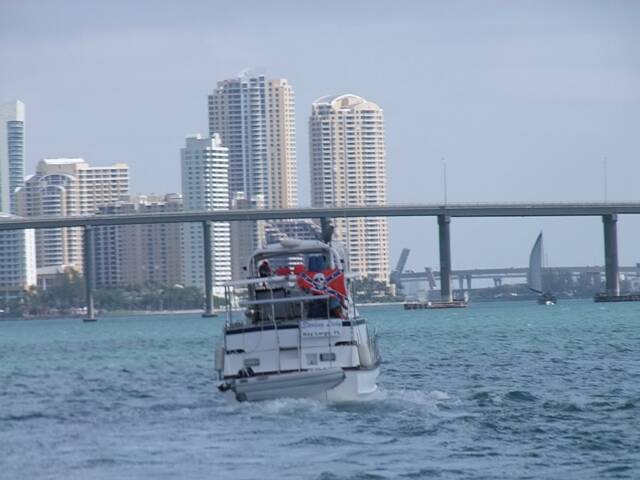 Approaching Ricinbacker Causeway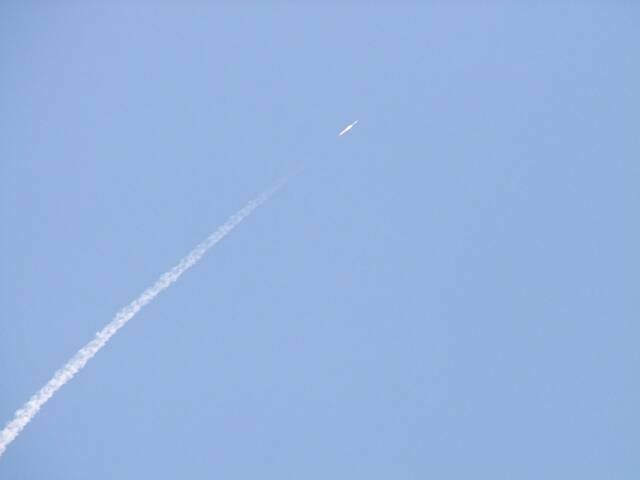 The Missle launch I could not catch on my camera.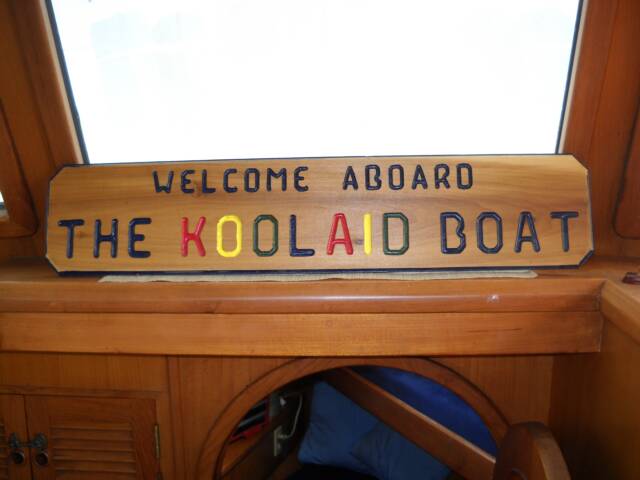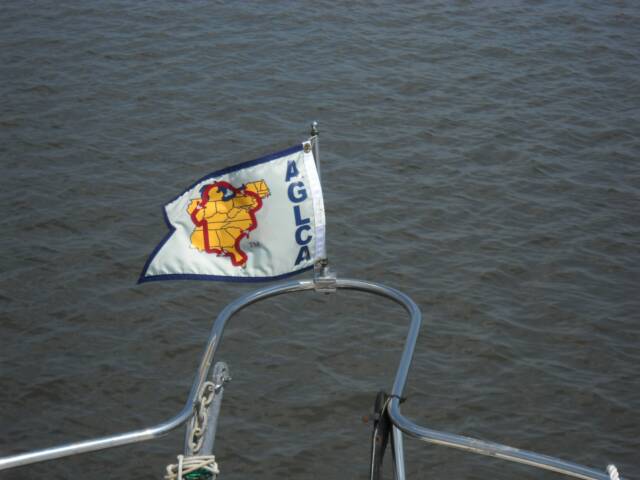 This is the platinum looper flag, which indicates you have done the loop more than once, which we are flying proudly.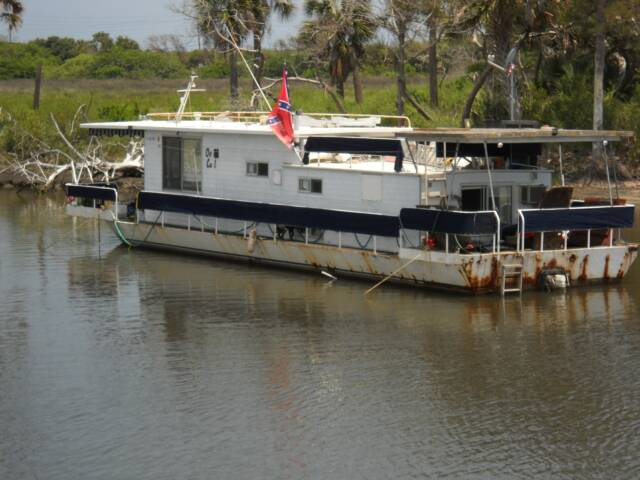 This is exactly why live a boards have a bad name. The fix is really simple, if you boat is not registered, and have liability insurance, get it the hell out of Florida.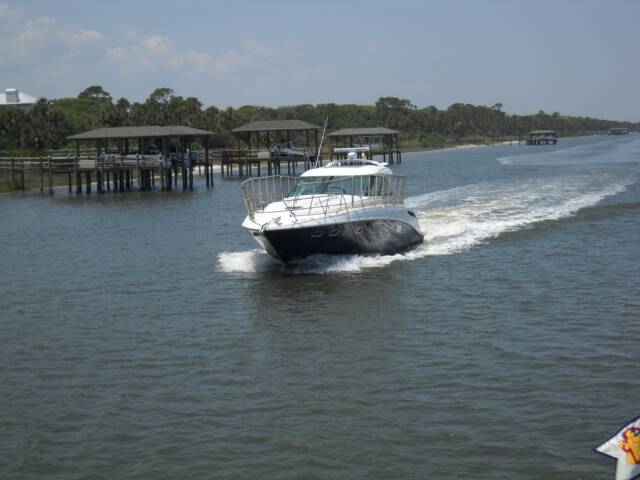 Passed the Cement Plant and the Sea Ray Plant , and this Test boat from Sea Ray. They had coopper mesh around the boat on the rails, and the engine room intakes were tapes shut??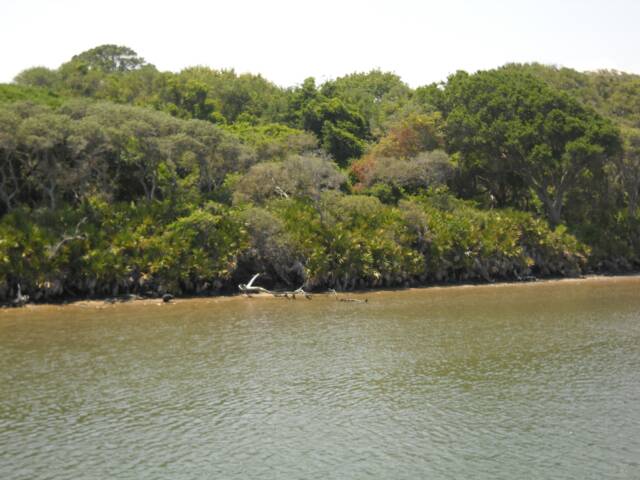 We are getting "up north" the shore line is starting to look like Georgia.

5/10/2011

The newly rebuilt Bridge of Lions, St. Augustine. Found out yesterday, I am getting 2.8 mpg, not too bad for this ol tug.