The Continuing Adventures of 

the Sterling Lady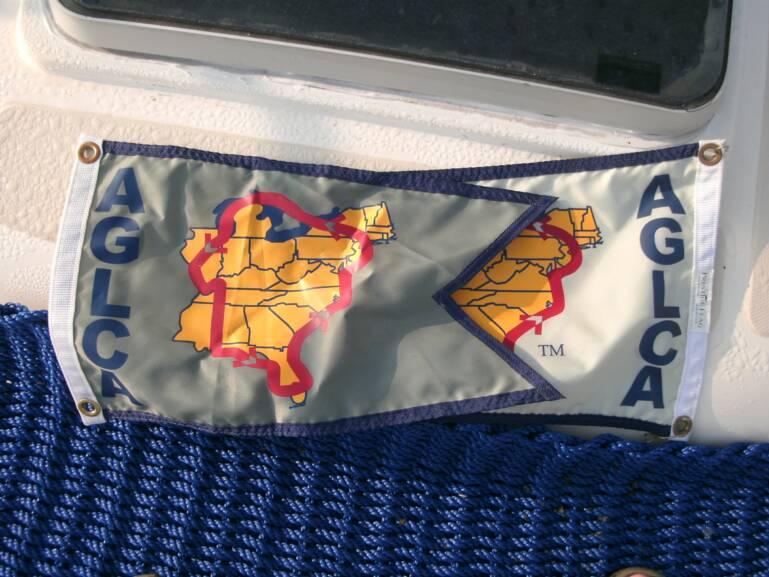 5/21/2011

Will the real Platinum looper flag, please stand up?

The one on the left is how they are supposed to look, because of a misprint, the one on the right is how they actually look.  ALGCA is looking into this and I hope they will remedy the problem. 

The lighter one looks like the white newbee flag. After doint the loop TWICE i woul at least hope I get to fly the proper flag!!!!!!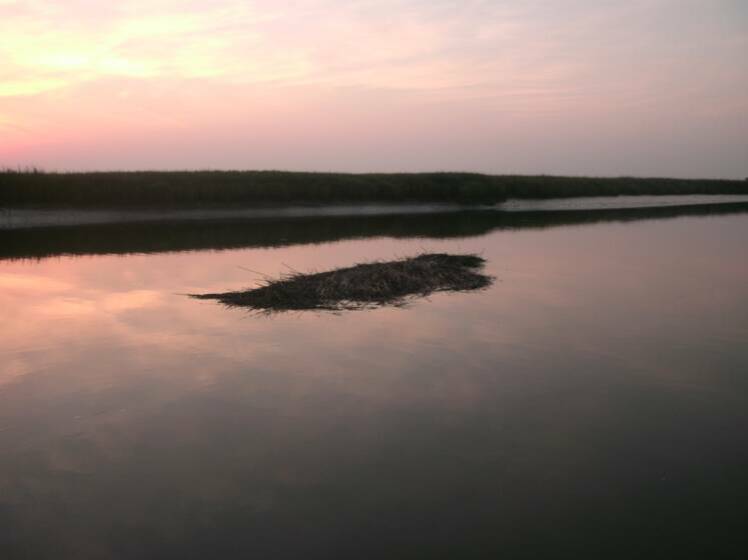 A large clump of floating swamp grass lazily floats by, as the sun slowly rises.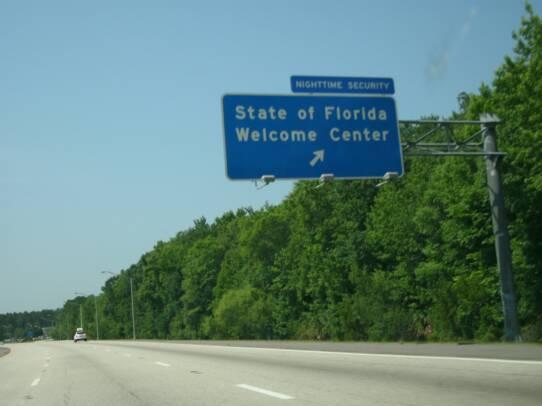 5/21/.2011

Road Trip!! Yep, we are headed back south in a rental car, to Fort Pierce , Fl, to attend a 50th birthday party for our friend Art.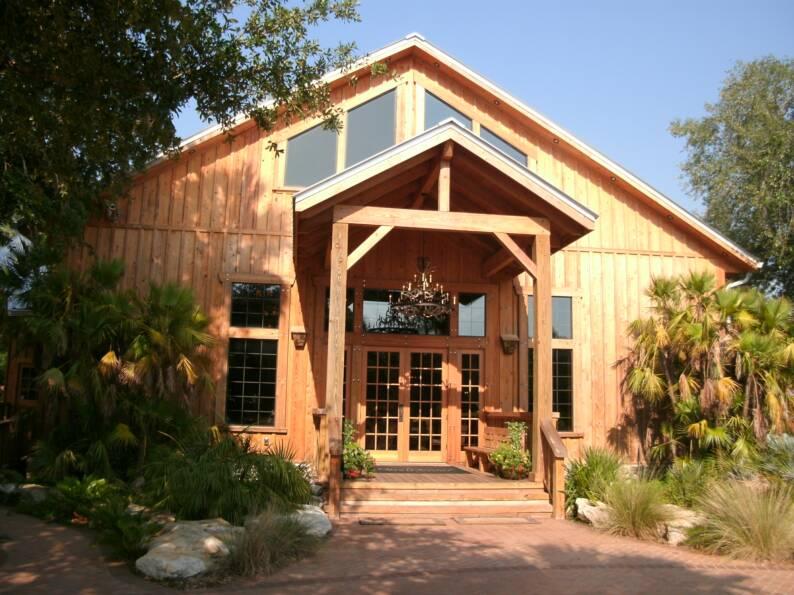 This is way obtuse, for a cruising page, but it is MY page after all. The party was at Quail Creek Plantation, in Ft. Pierce, and the facilities were  incrediable!

Take a look see!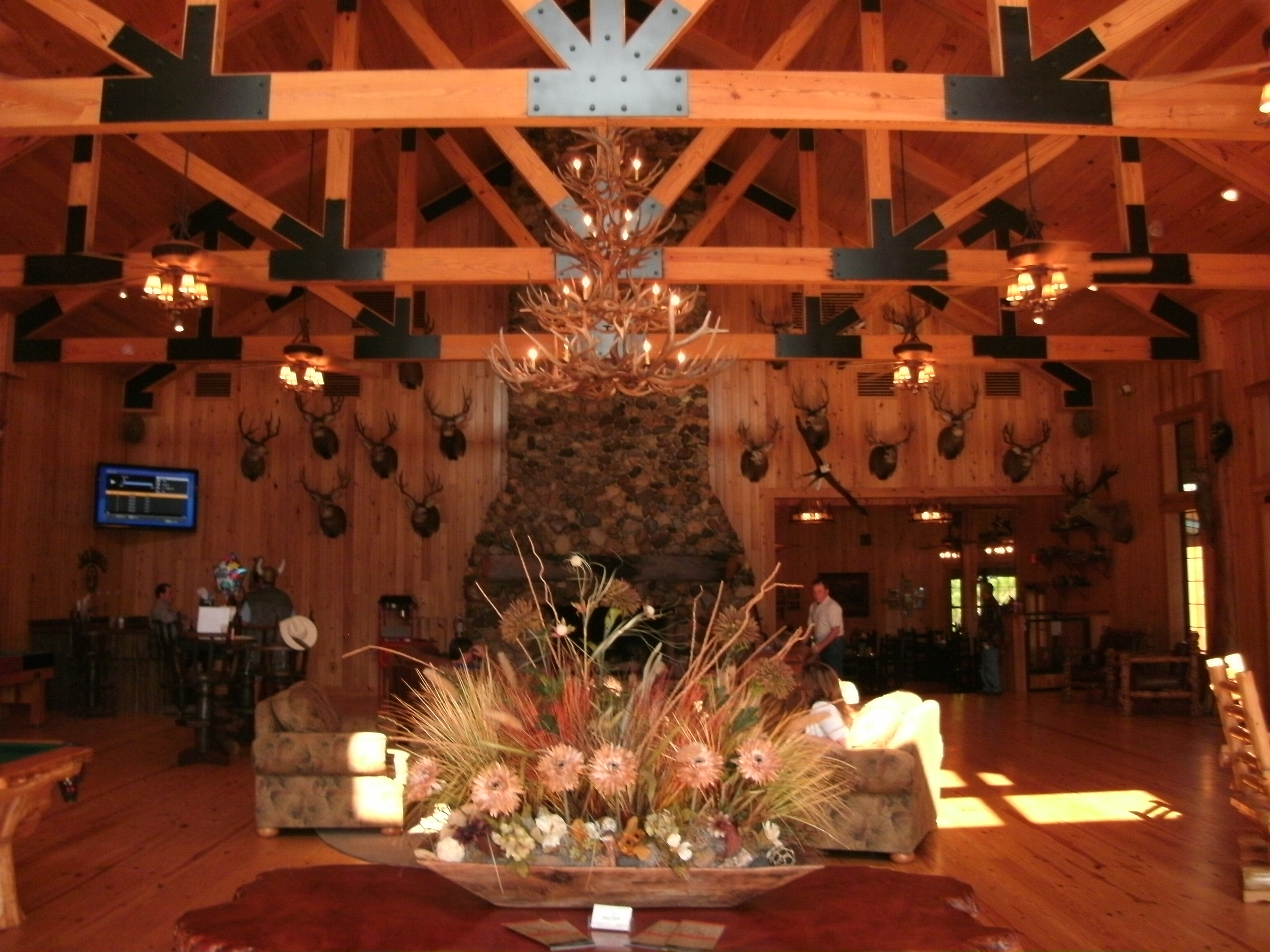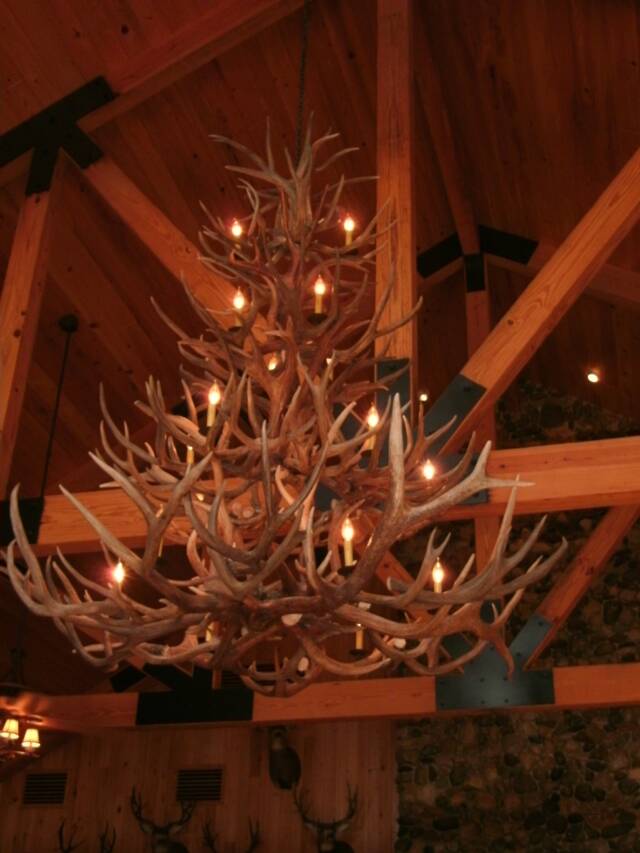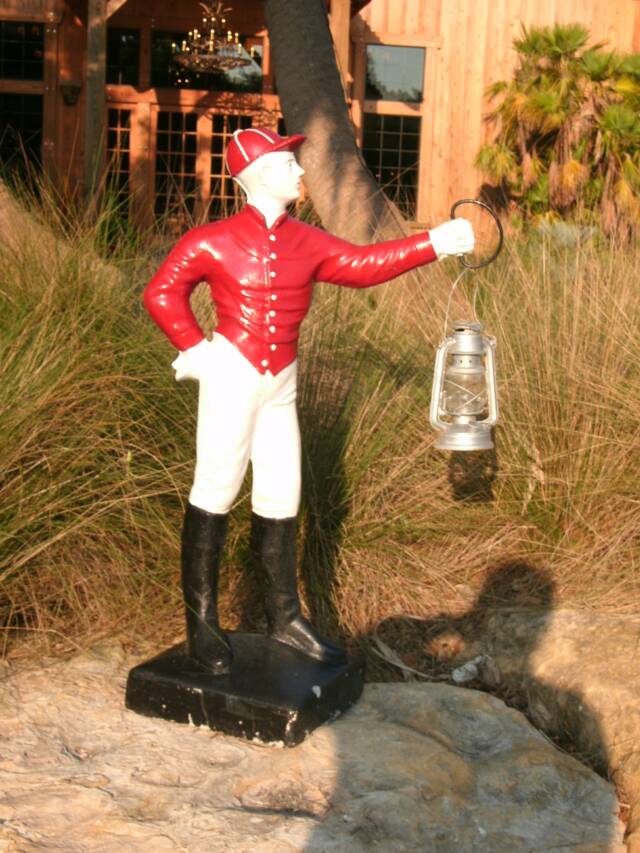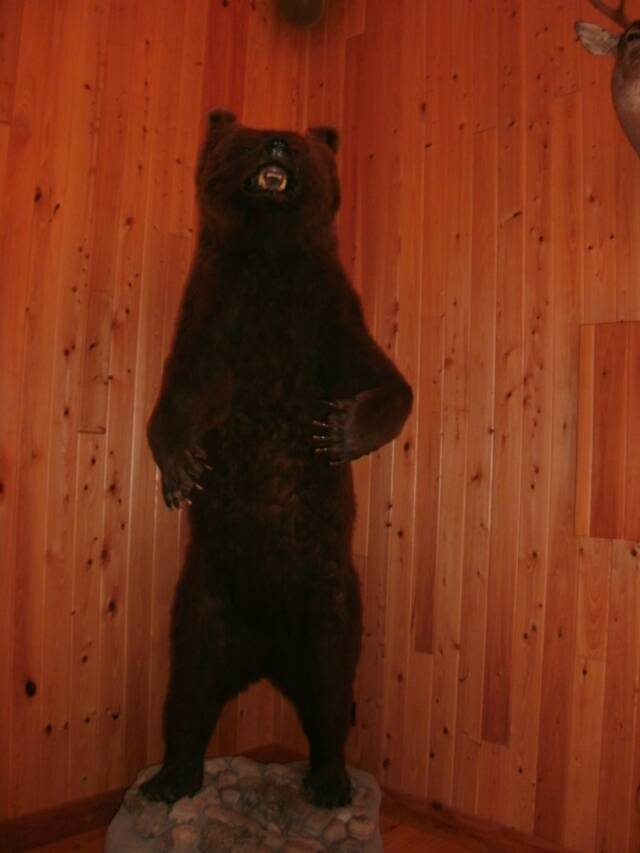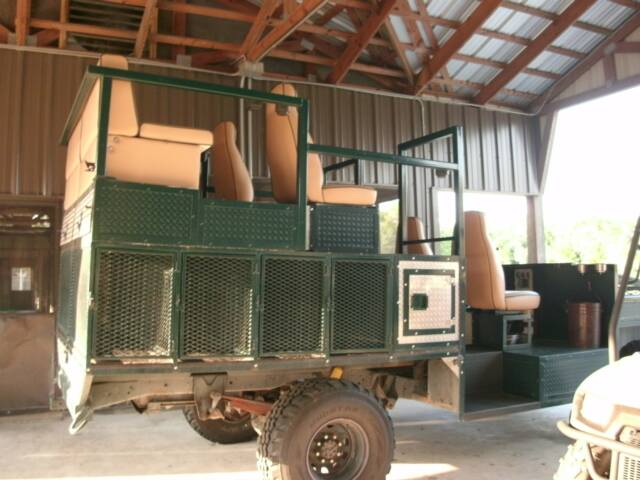 For a nice chunk of $$< you can go out for a half day on this buggy, and hunt animals on their private plantation.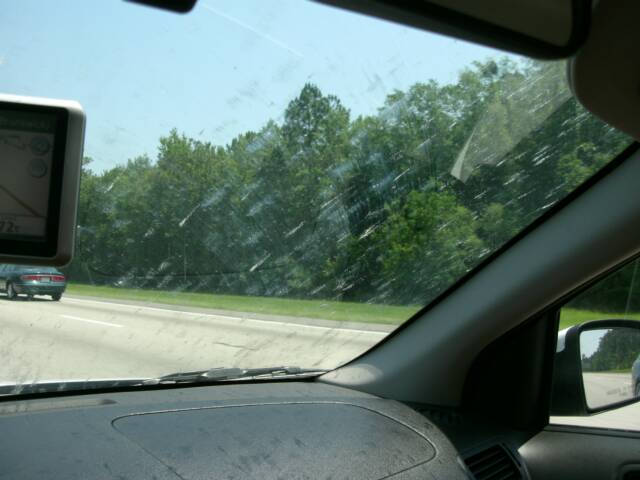 A very special Thanks to Art and Sandy , our very gracious hosts, for this 50th birthday party for Art.  

Unfortunately , the Love bugs were out on the way home, our windshield was covered.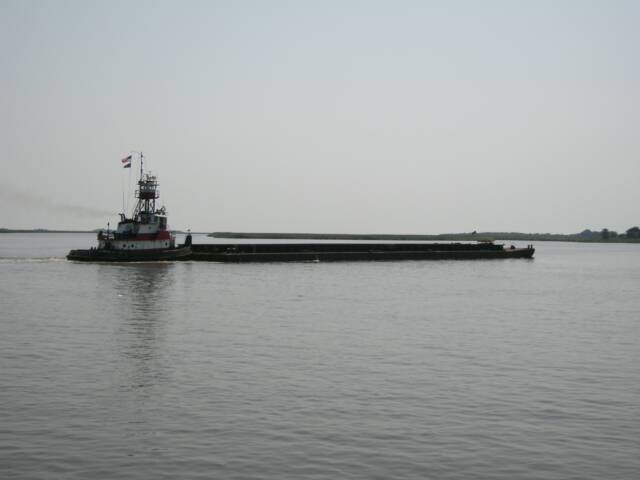 5/23/2011

Today was a long 55  mile day.  nearly 10 hours,.passed this tow on the two.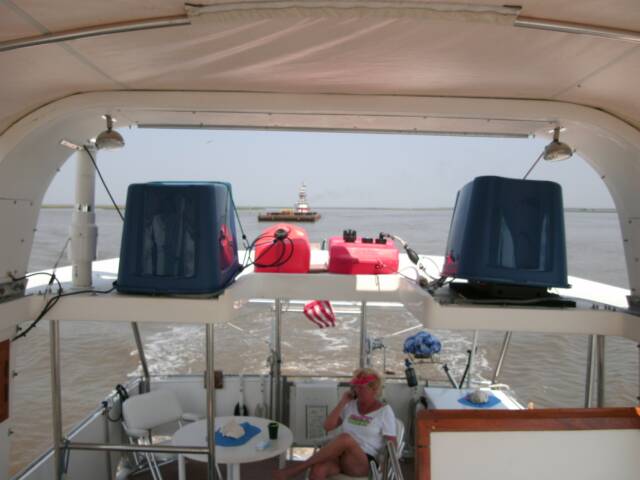 Admiral Judy on the cell with her daughter,  tow we just passe up our Azz,  and cruising north at 8 mph,  just another day in Paradise.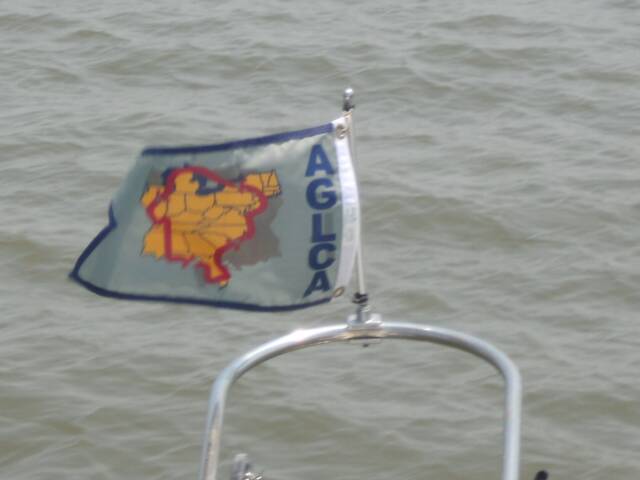 This is the color the platinum looper flags are supposed to be.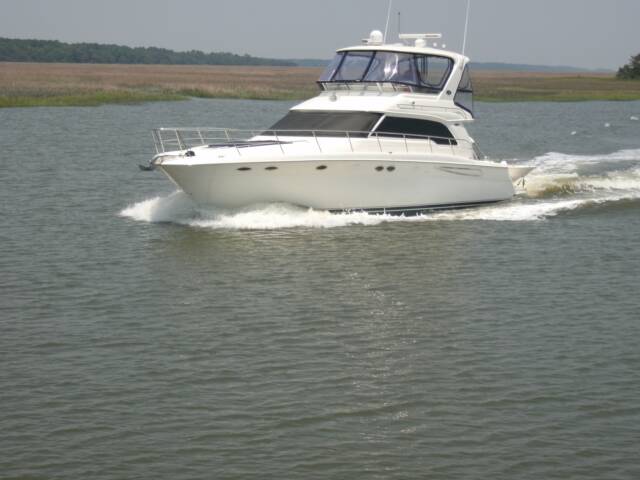 With the cost of Fuel, the "Go fast" Sea Rays,,, don't. 

Ha!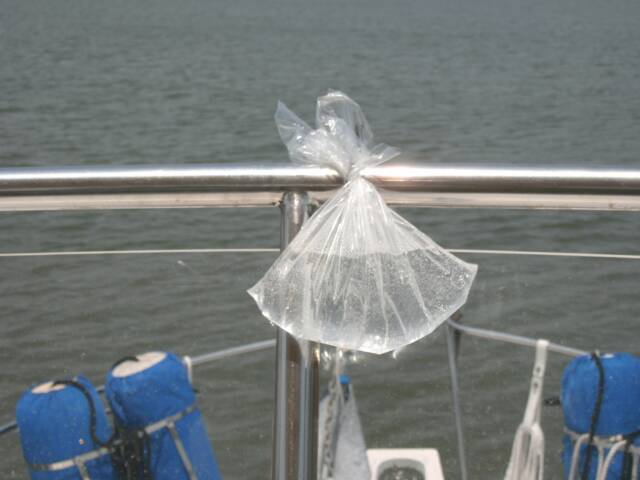 We hung zip lock bags with water around the bridge, to help keep the bitting horse flys away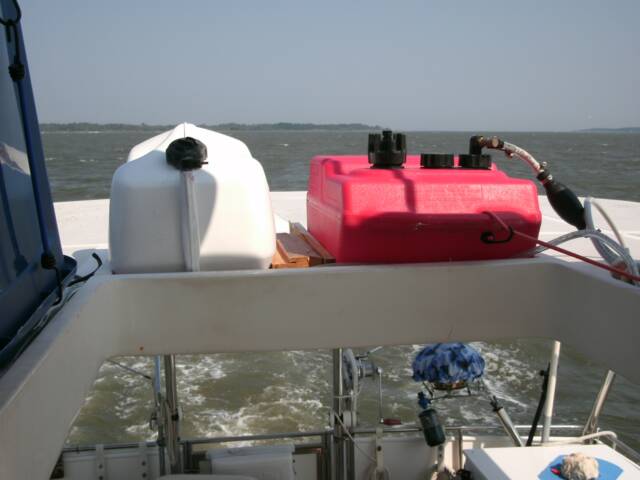 Today , did a test painting of the RED fuel tanks on top of the aft deck cover, that stood out so much being red.  The  white plastic spray paint worked great.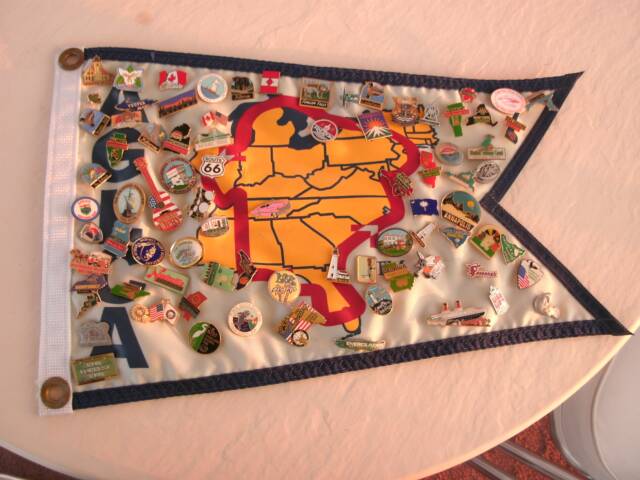 AGLCA,  America's Great Loop Cruising Asociatoin, sent me the Wrong color Platinum Flag, reserved  for loopers who have done the loop twice or more, which unfortunatly looks white, like a newbe flag.

So we put our pins from the Loop on it, making it special.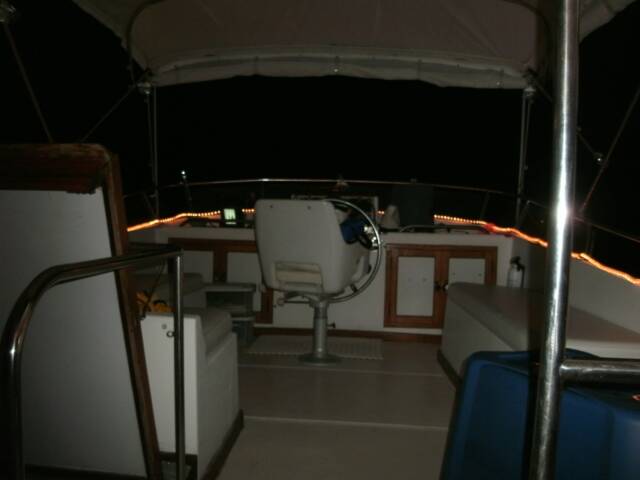 Tonite we are anchored in KillKenny creek, and as usual, the LED rope lighting is on the bridge, and the salon light is on, so no one runs into us at nite, . we are lit up like a Christmas tree!!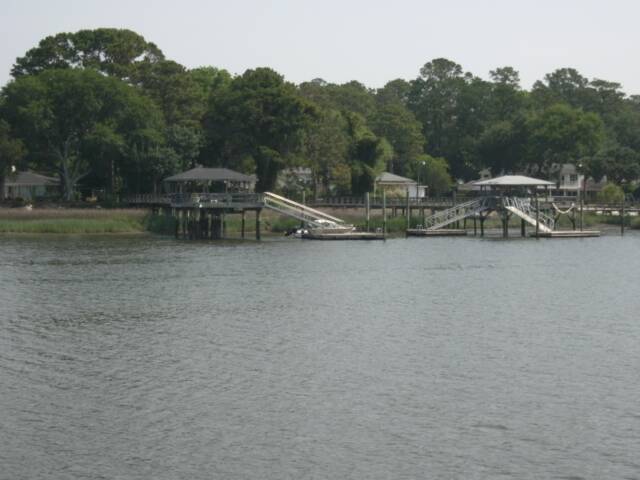 5/24/2011

Finally, after two days of cruising, we see sighs of civilization. Houses along the shore line as we approach Savannah.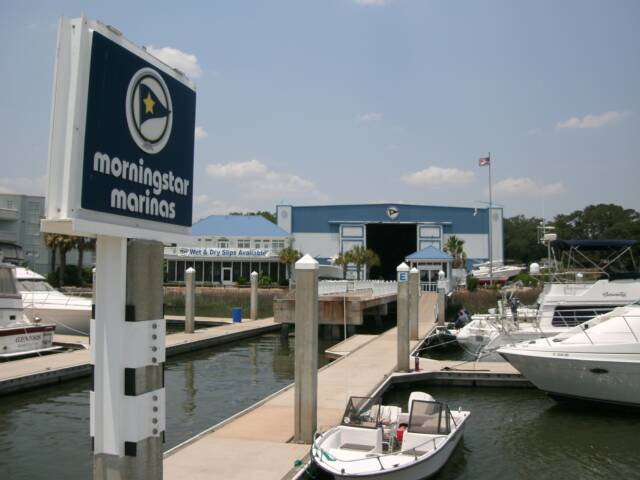 We arrived at Morning Start Marina, Savannah, about noonish.

Cruisers, if you stop at one of their marinas , ask for the 10% discount card.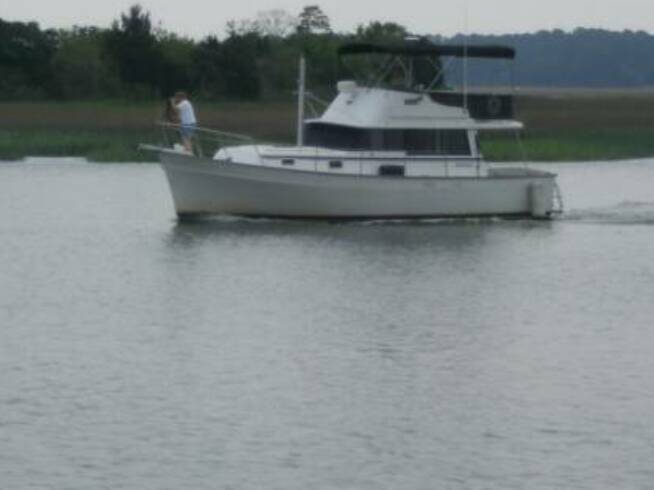 Today, at the Marina, a 34 mainship passed us. This the the same boat as the Sterling Lady 1. We are on the Sterling Lady 4.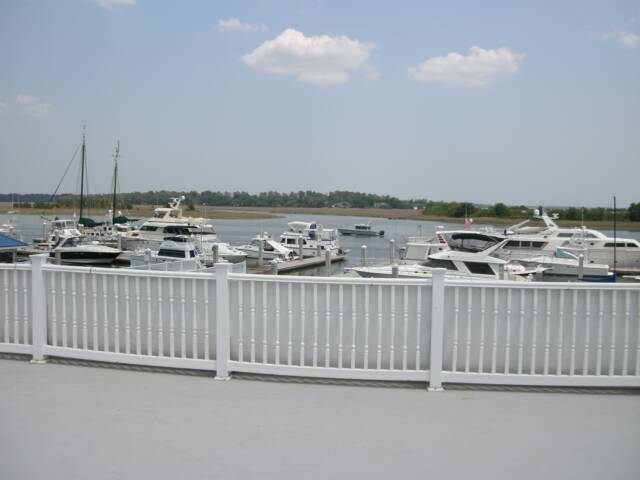 See if you can find the Sterling Lady moored at Morning Star Marina, Savannah.

You can't , it's behind the huge yacht.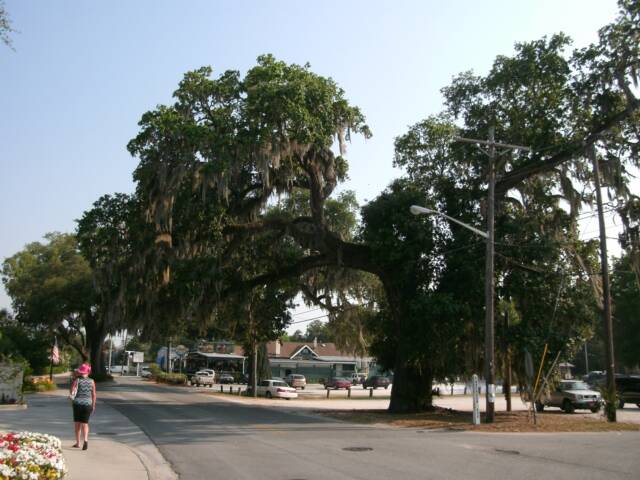 The Oak trees in Thunderbolt are incredible!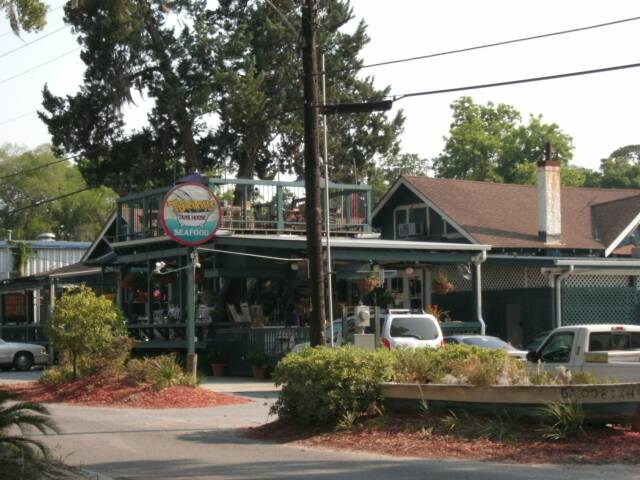 The day ended at Tubbys, for drinks and snacks.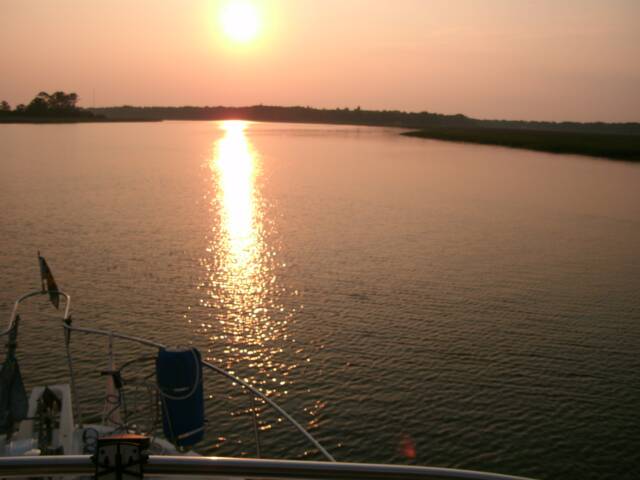 5/25/2011

RIght after sunrise, we depart for points north.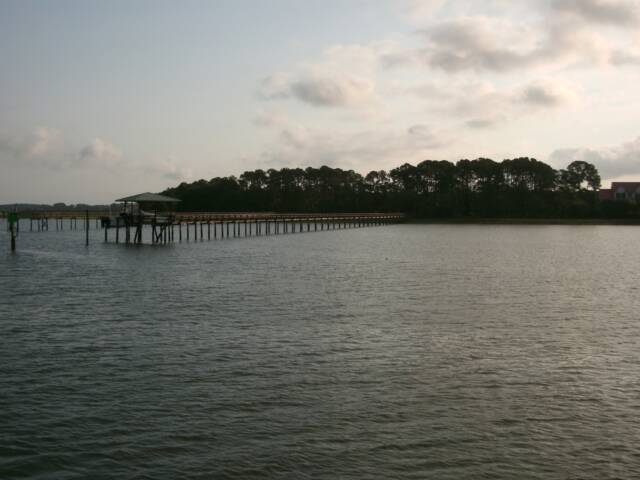 With 8 foot tides, and shallow waters, the walkways to thte docks to get to deep water are very long.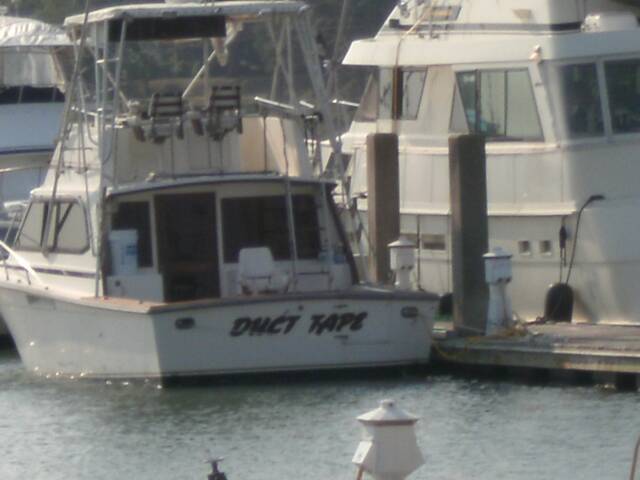 This is one of the worst boat names ever! What where they thinking?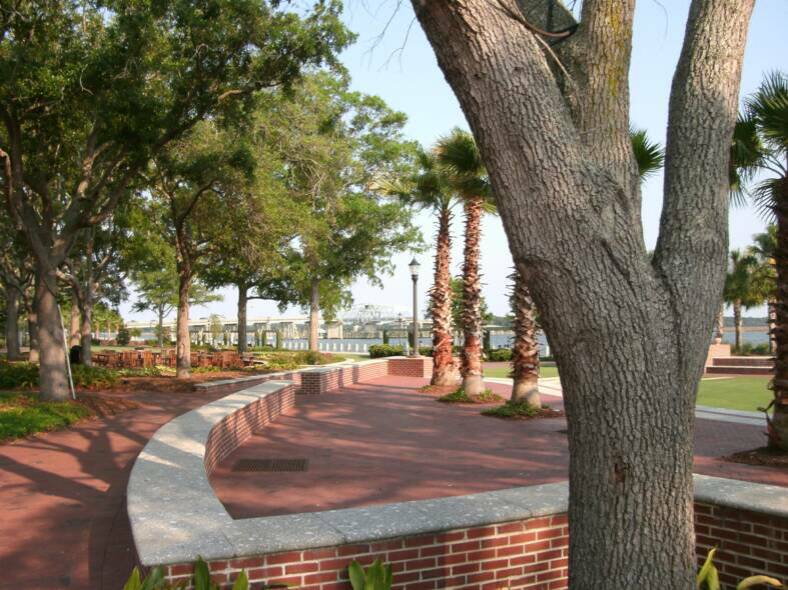 Arrived at Brunswick City Marina about noonish. The Downtown marina is located right at the park, and right downtown.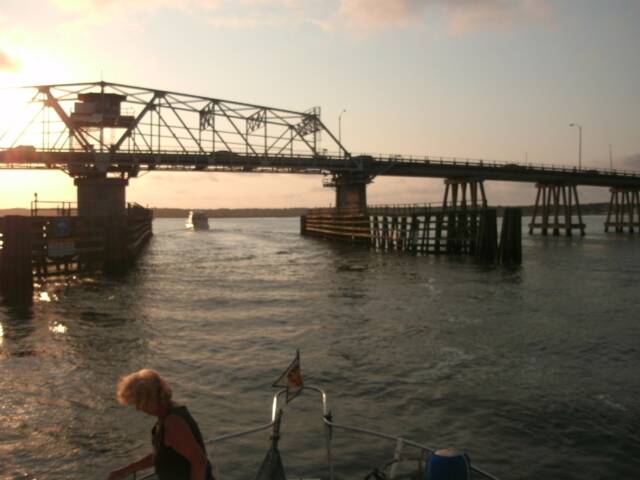 5/26/2011

This is what the Admiral looks like at dawn, when she has to be woke up to help with getting off the dock because of winds and currents.. Don't tell her I showed you this.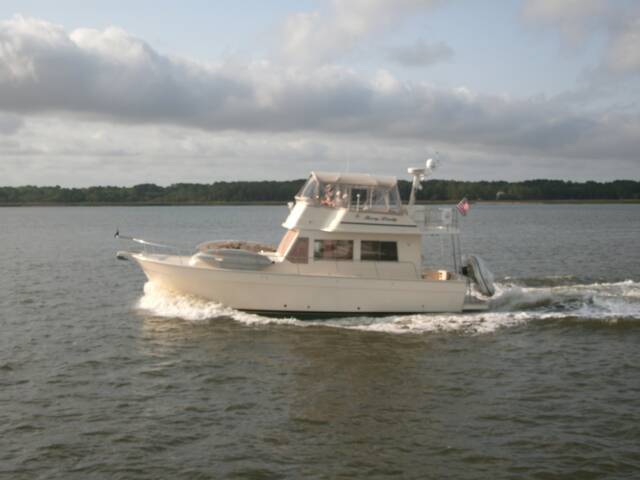 We were passed this AM by Bill and Jann on Ivory Lady, from Marathon Florida. 

They came aboard last nite for a few refreshments.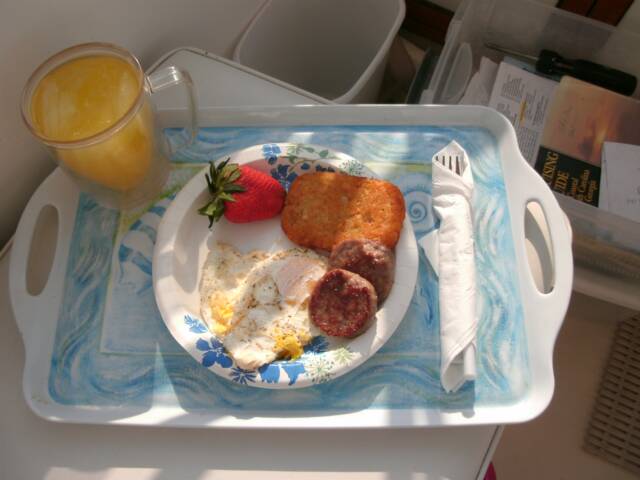 These are the types of breakfasts I get from Admiral Judy. Tis a burden I must endure!!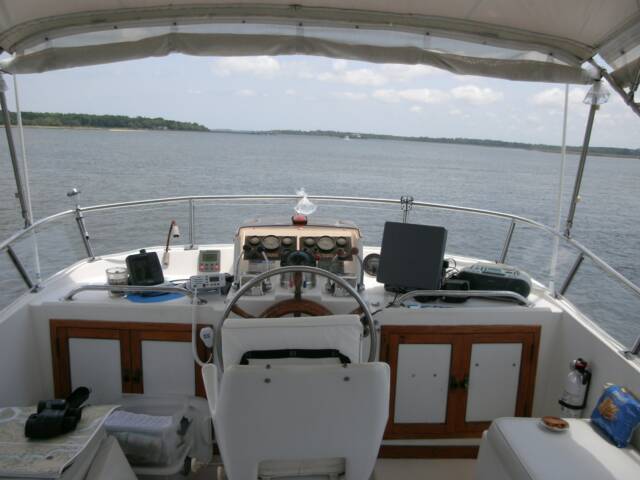 We are underway with "George", our auto pilot , driving. 

He does a lot of the driving,  and he is actually fairly good at it.

As you can see, the helm is a bit crowed, lots of good manly man stuff up here.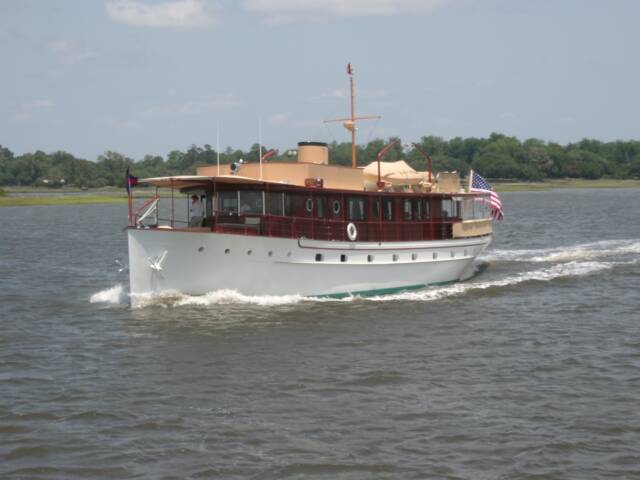 This oldie but goodie came by today.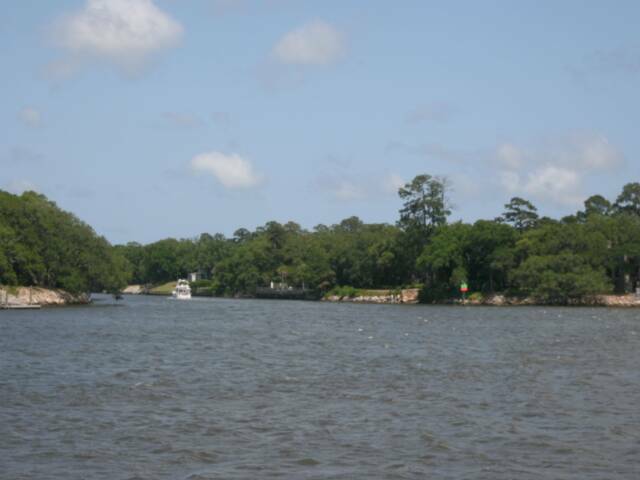 While headed to Charleston, we caught up and followed "Carolyn Ann", a looper we met while doing the loop in 09.

This is Elliot Cut, just before Charleston, know for it's swift currents.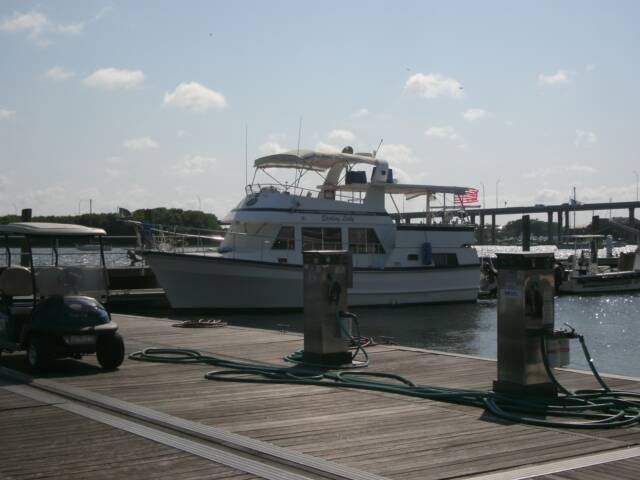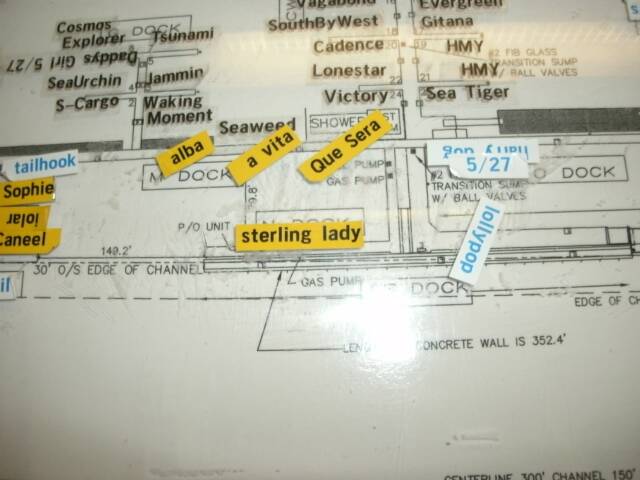 After a LONG 9 hour day at the helm, The Lady is at rest at Charelston City Marina. This is a first class, well run marina , know for it's Mega Dock (for the mega yachts, of course)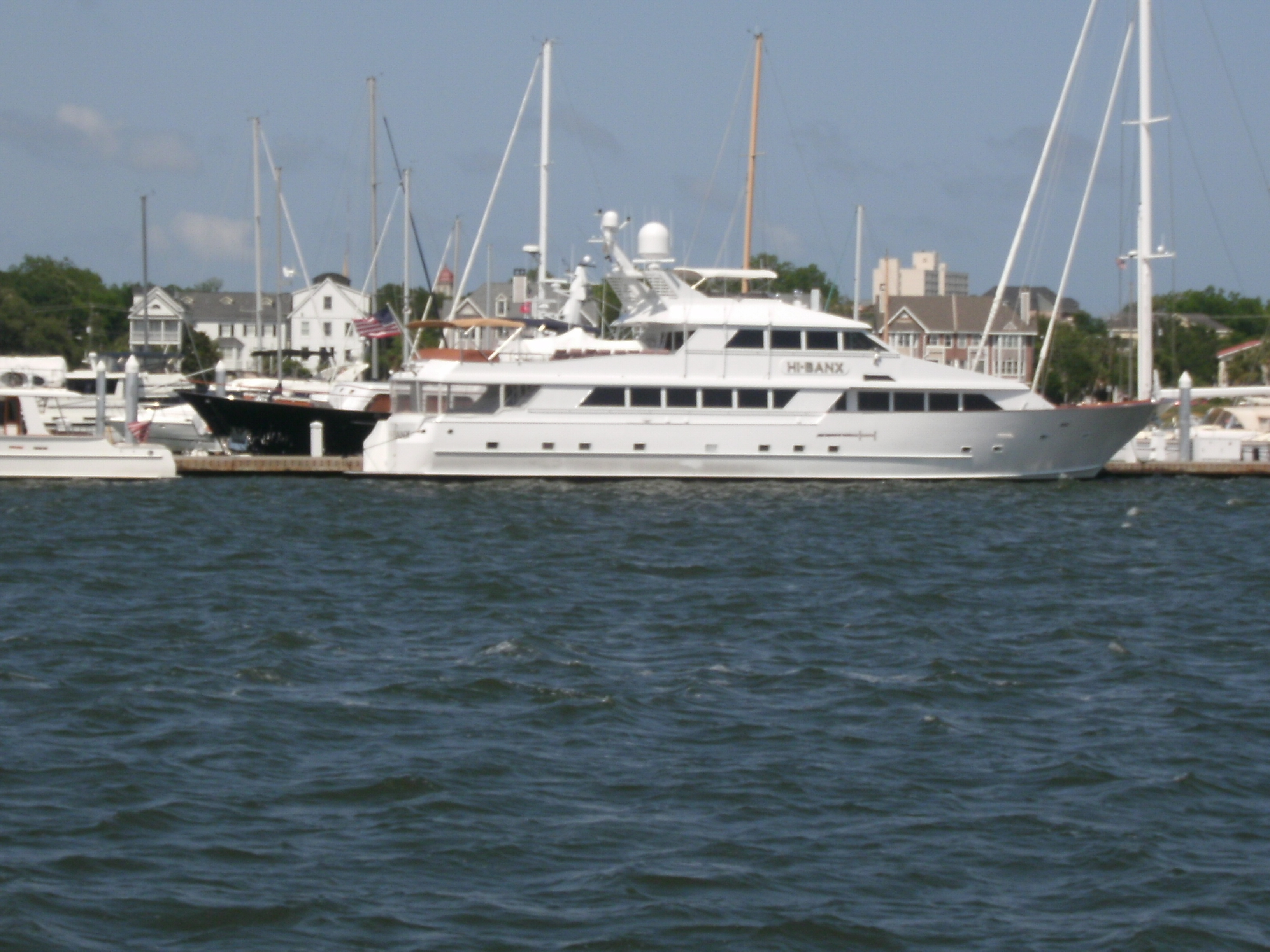 One of the many Mega Yachts docked here.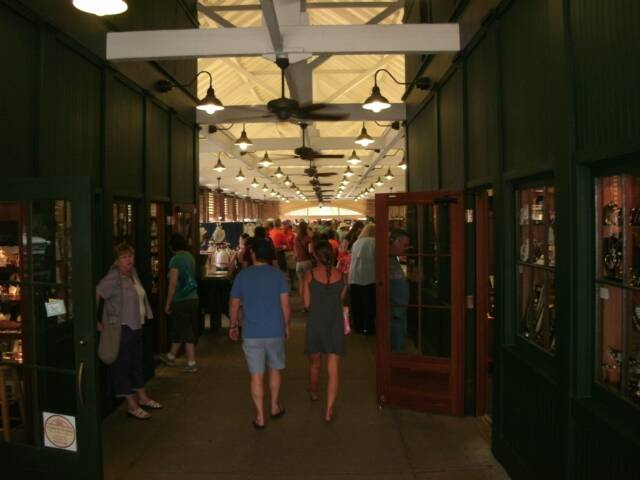 We are going to spend a few day here in Charleston because there is so much to see and do such as the market...

The confederacy Museum and...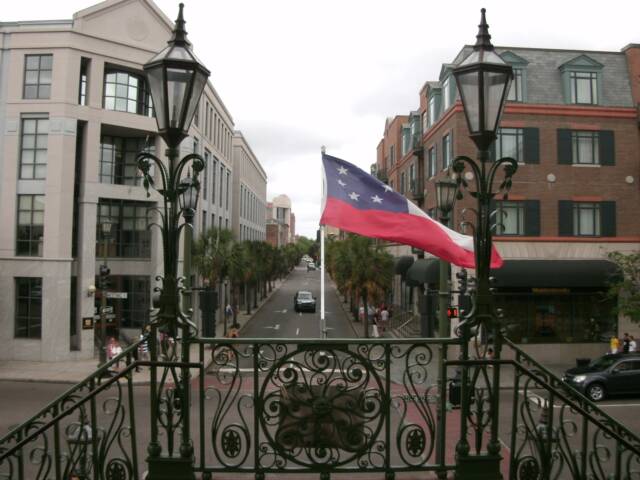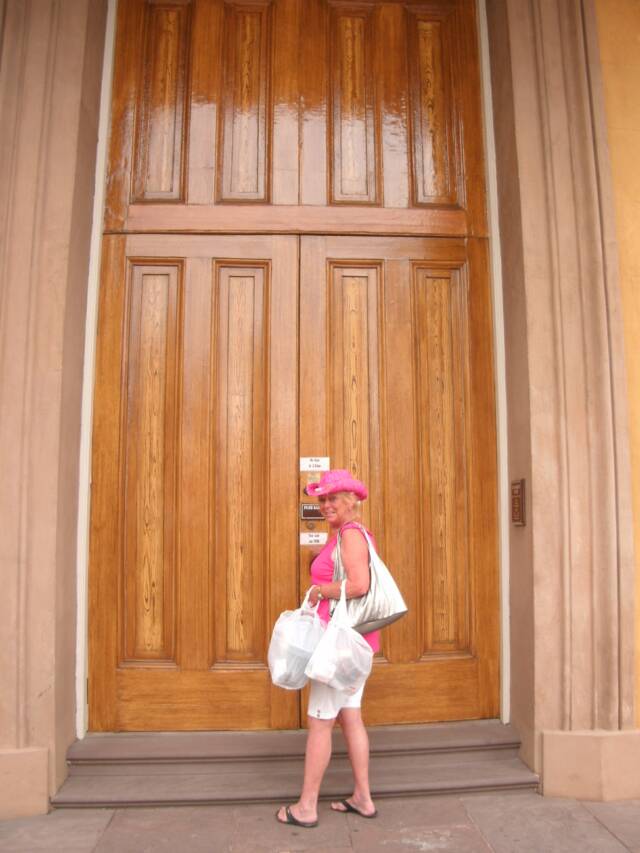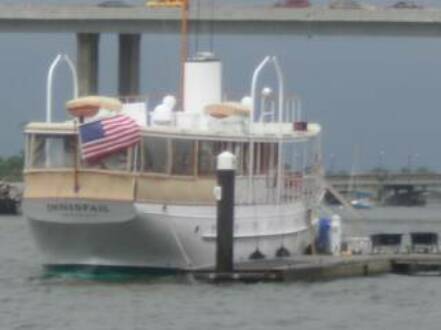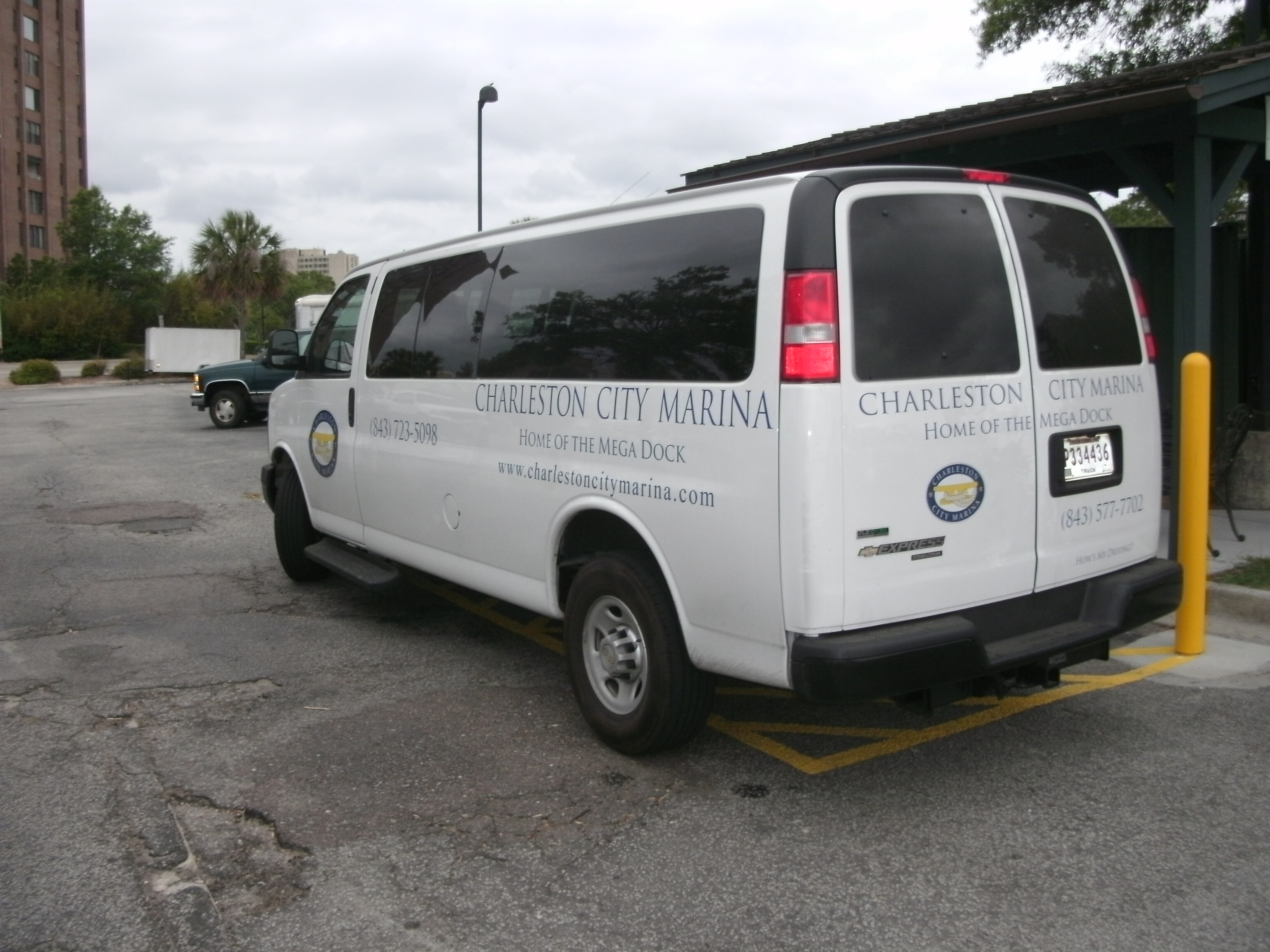 the marina provides a free shuttle service,,,and....we used it evenings to pub hop.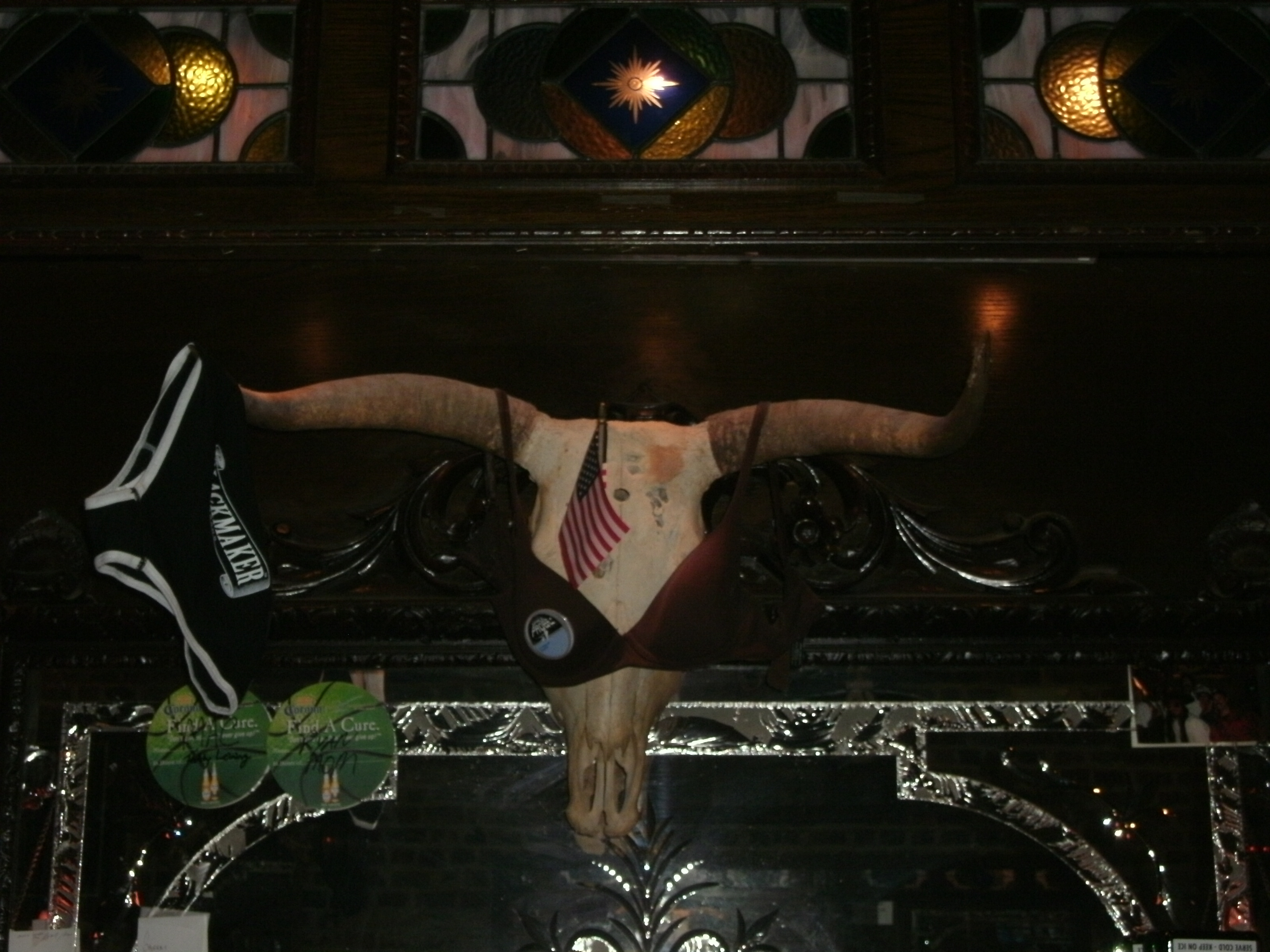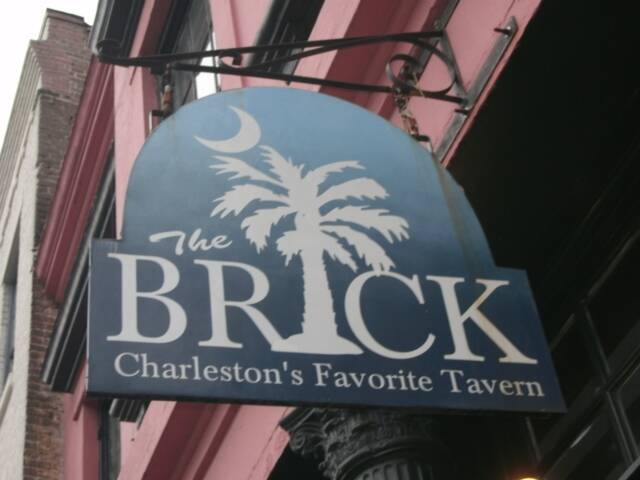 The Admiral said she was buying today , so I got to drink Baracdi, and she ordered what I believe to be the absolute worst possible food on the planet,,deep fried breaded bacon. It was pretty bad tasting too.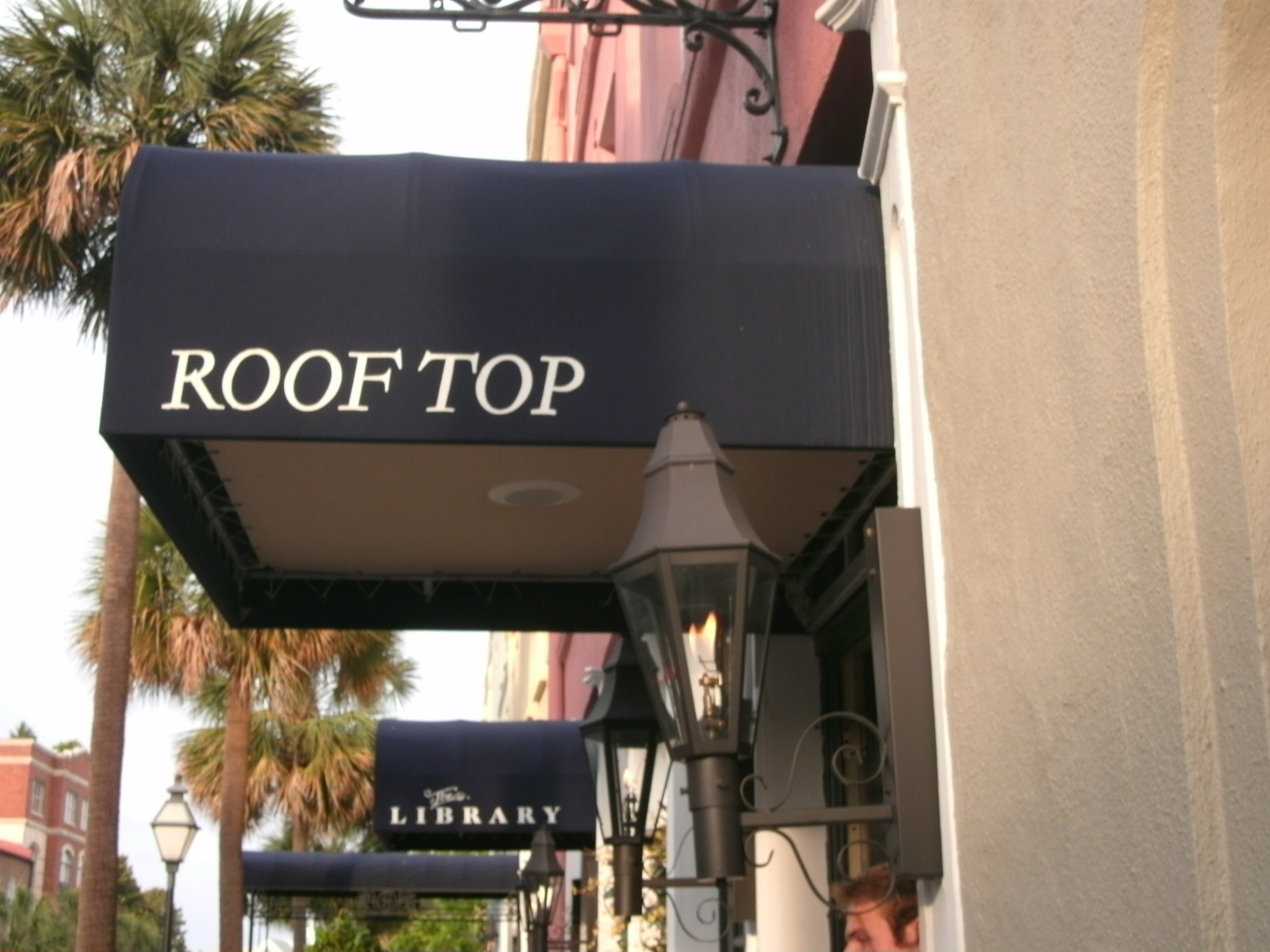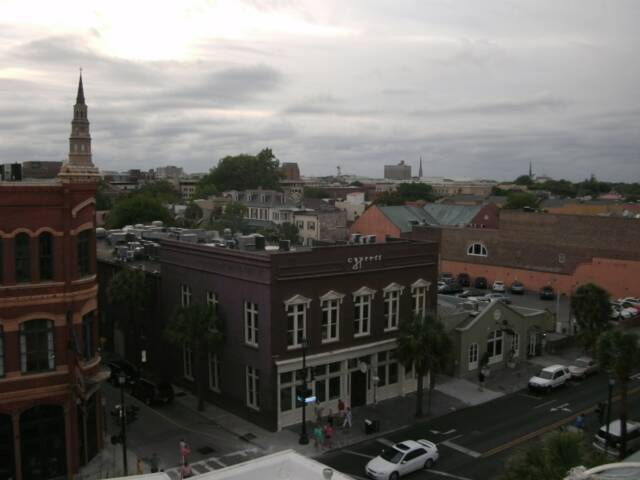 The day ended at Rooftops. A bar with a view.

Cruising Rule #123

You can always say to the wife,,"gee, sorry hon, we can't buy that cause we don't have room in the boat"

It usually works!

And then  the next day we went to Bubba Gumps.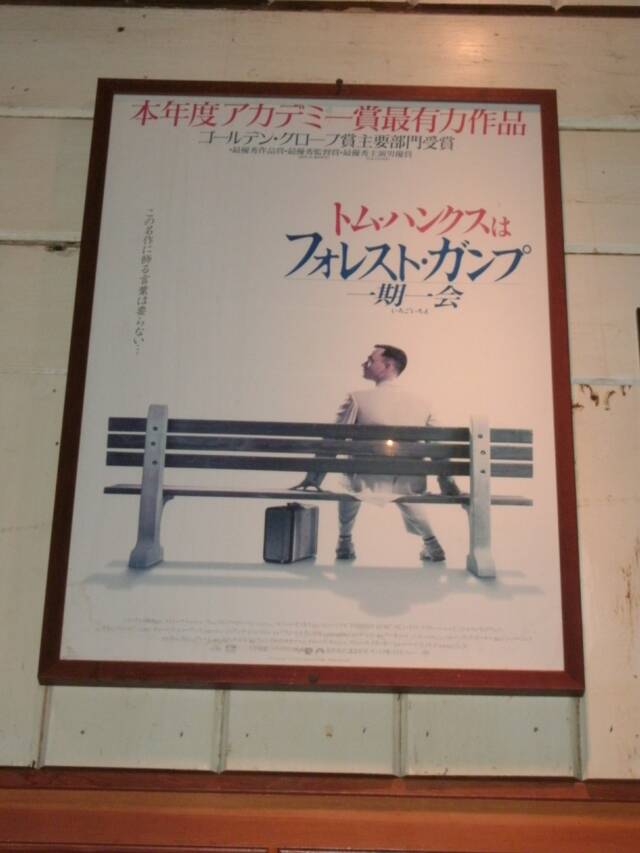 Probably in my top 20 bars on the planet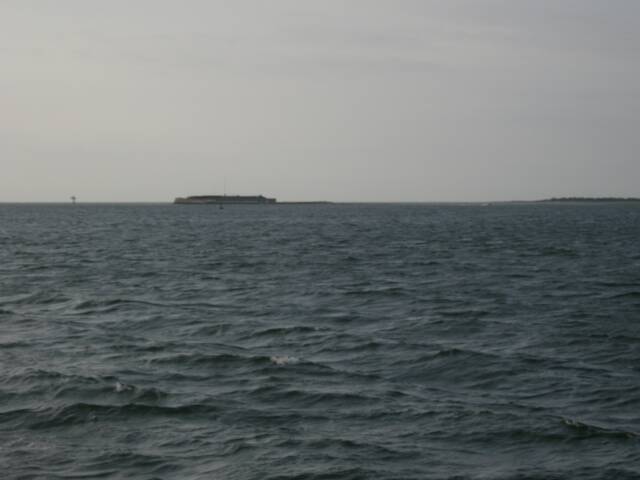 Leaving Charleston, we passed Fort Sumpter.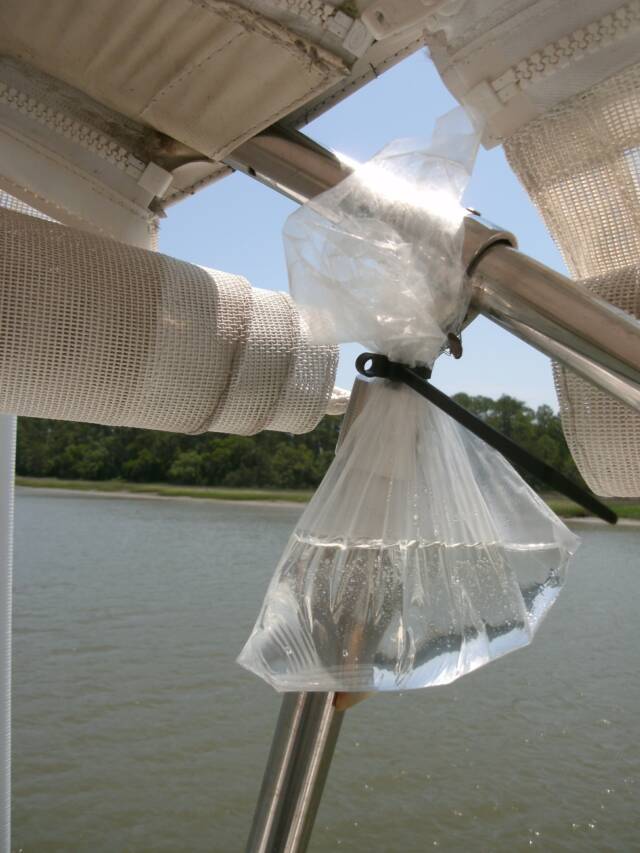 A word about biting horse fly's.

They land, then take a moment , and they bite , and it hurts . 

We hung bags of water around the helm to ward of horse fly's, cept, if you look closely, there is a horse fly hanging on the bag of hose fly water. Dang/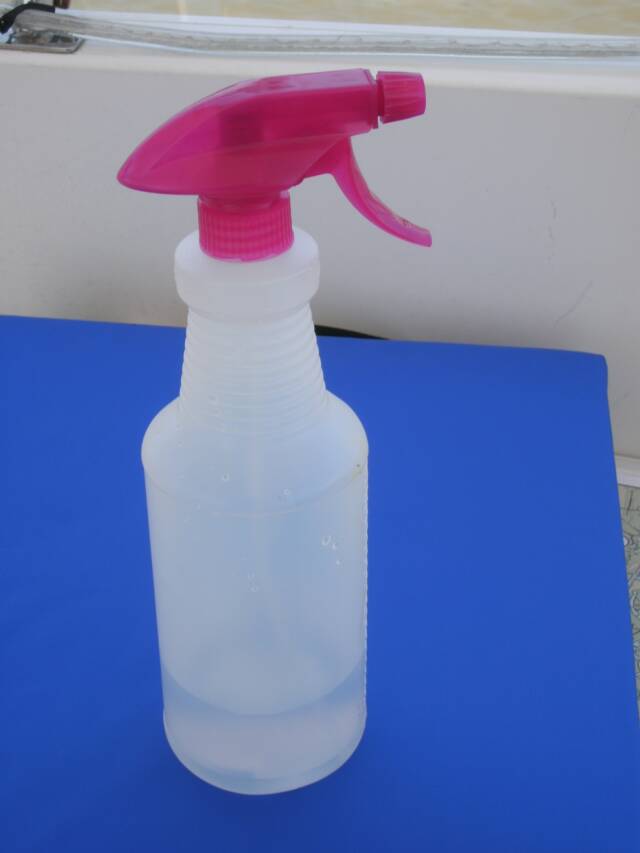 What is this?? , Well  you may ask. 

It"s a portable Air conditioner. Why, because of evaporative cooling, you spray  yourself down , and as the water evaporates, it cools you down. 

It really works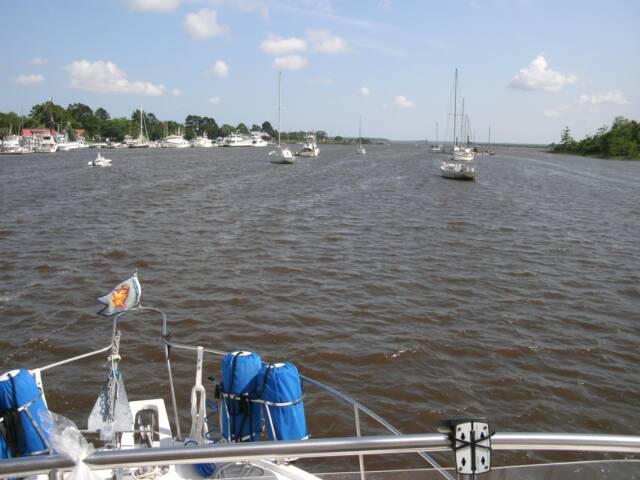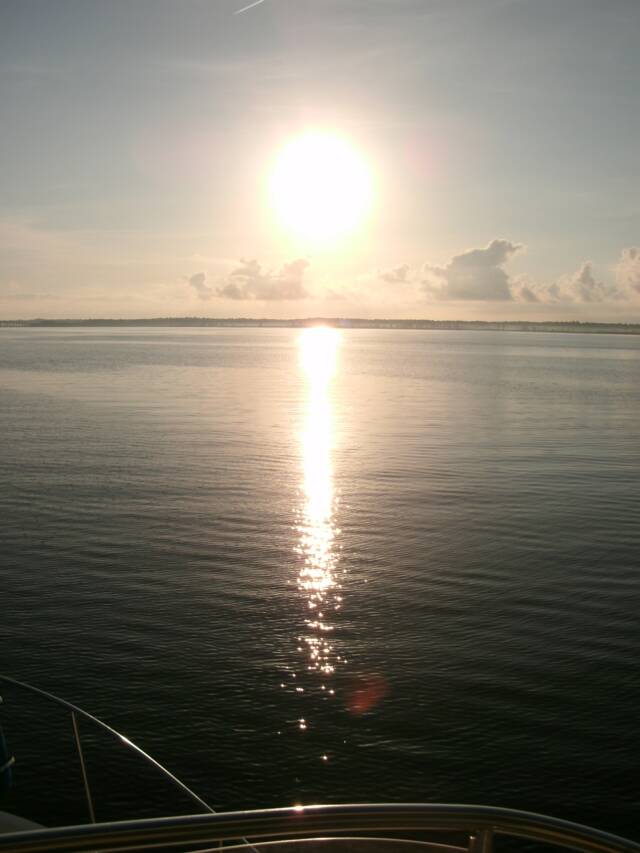 Another early AM departure, but I really don't mind. By noon, I have 5 hours of cruising in ,and I am done.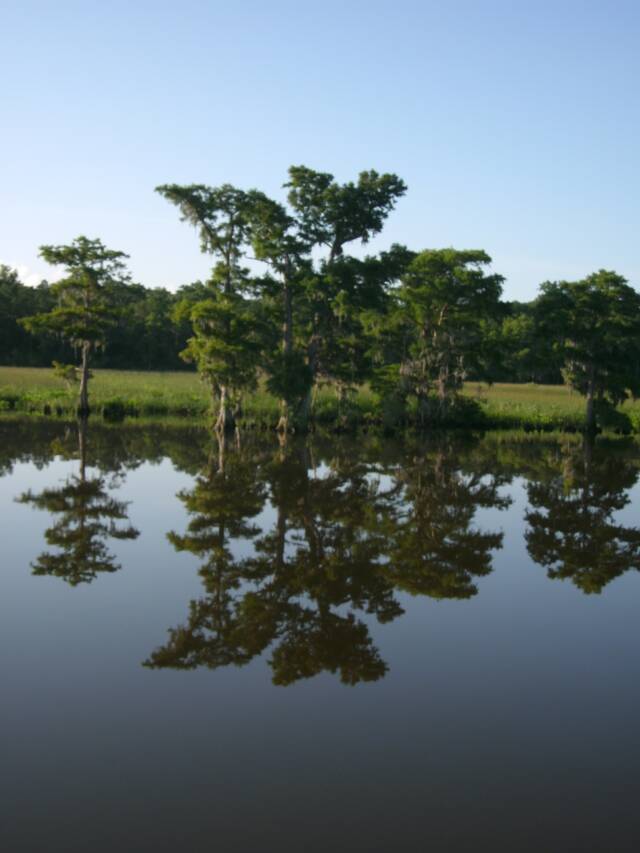 Cypress trees up north , kool.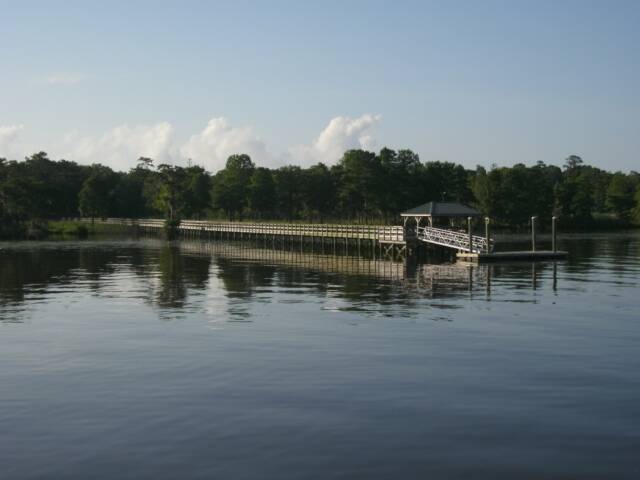 Because of the shallow waters up here, the docks are REALLY  long.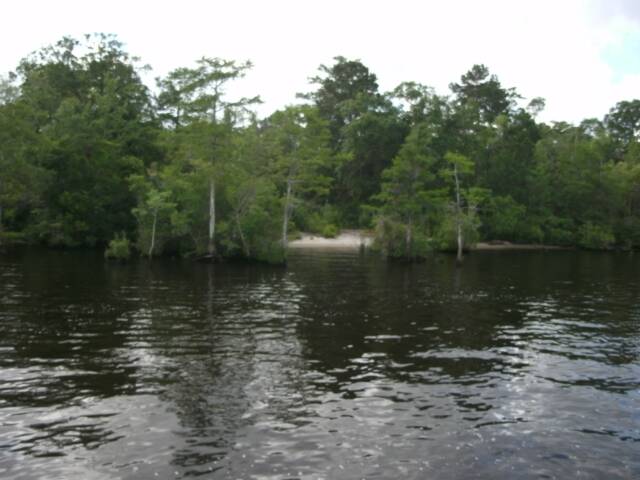 The shoreline has changed drastically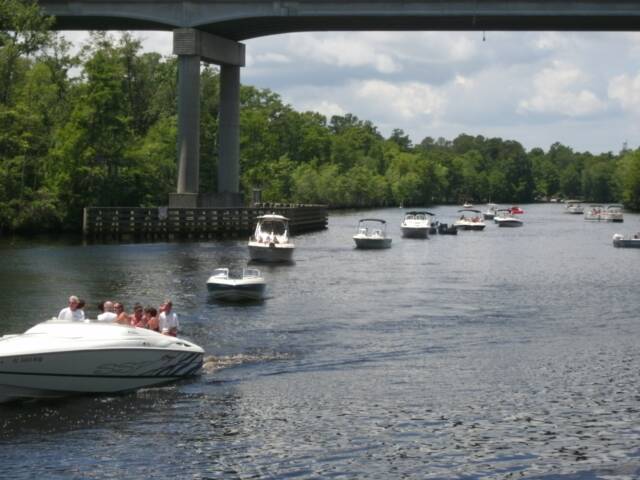 Oh yeah, it's memorial day weekend , every idiot is out on their boat. Where the hell are the coasties now??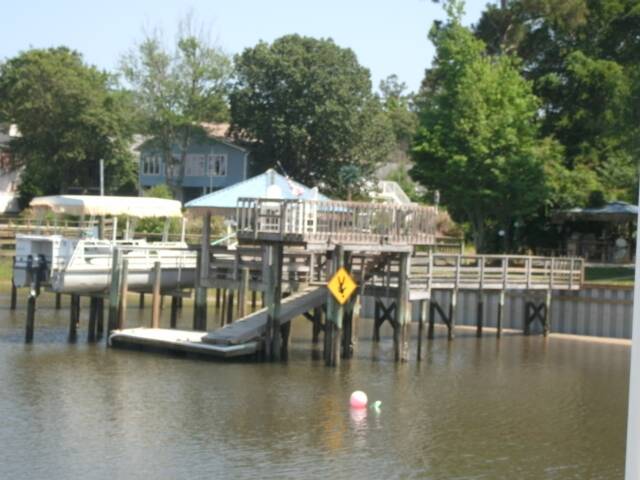 What the hell does that sign mean??

The Shoreline is very different.