The Voyage to Nowhere 

of the Sterling Lady and Crew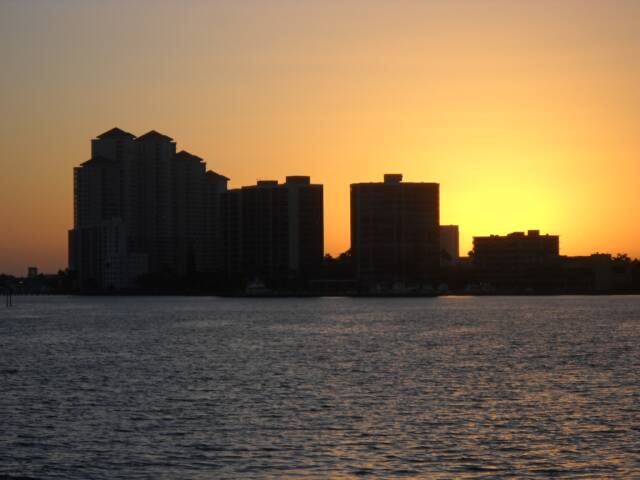 6/23/10

The Sunrises over the City of Fort Meyers as the Lady heads west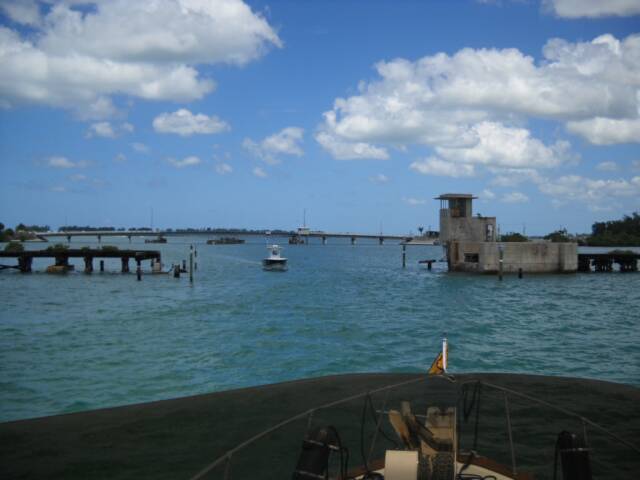 6 hours later we will go thru the abandon RR bridge, and make a sharp left to Uncle Henry's Marina, at Boca Grand.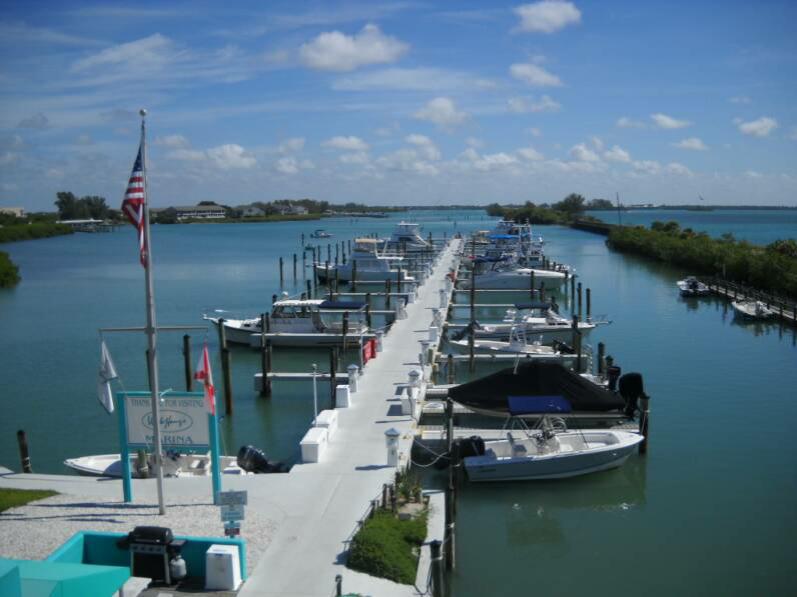 Uncle Henry's is one of those condominiumized marina, that, as you can see, is not totally full. But for $2 a foot, we can enjoy this exclusive community and see what it has to offer. Also our friends, Billy and Kitty from Key Largo are here on their trawler Bills Kitt.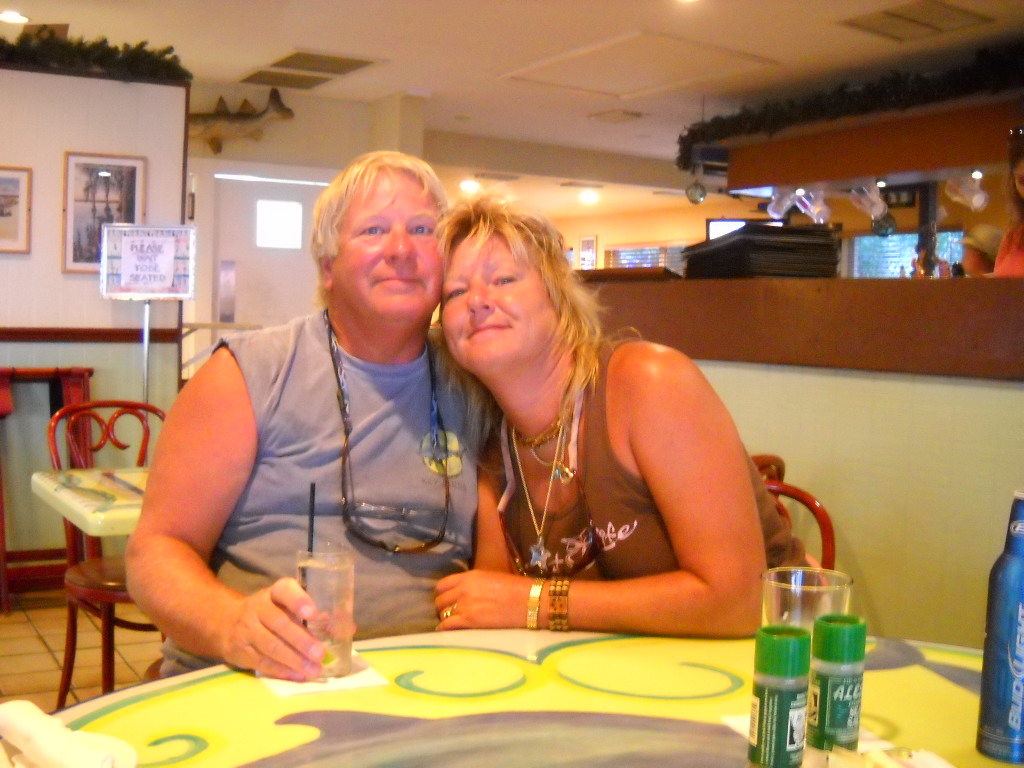 We took the rented Golf cart to the beaches.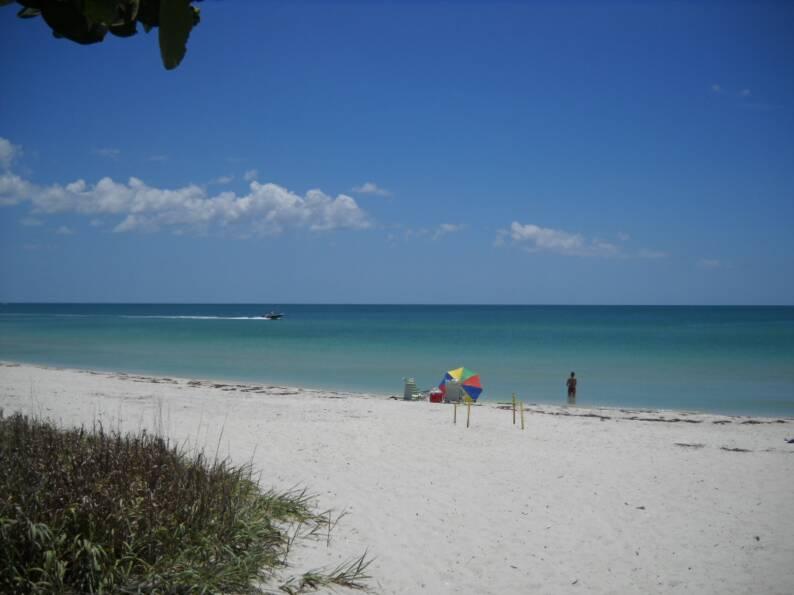 Have I mentions it's been unseasonally HOTTER than He** here. The water was very refreshing, but being on the beach was like an oven.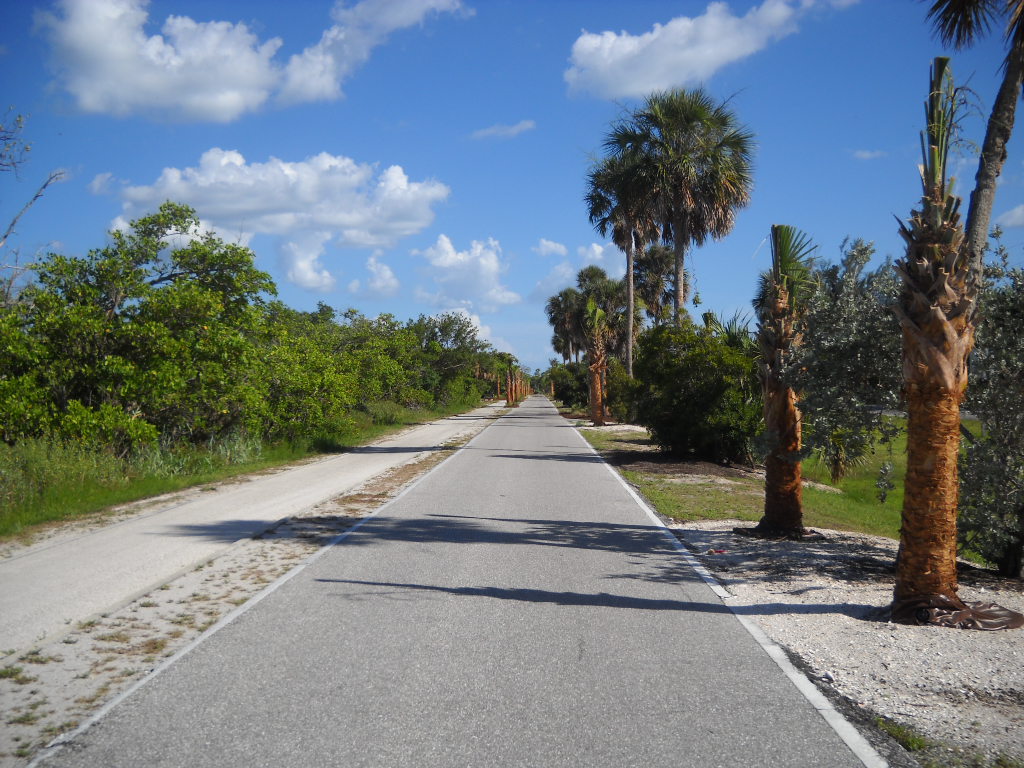 The island of Boca Grande, was given the old RR tracks, and they made terrific Golf Cart and jogging paths the whole lenght of the island. Everyone used carts instead of cars. Key Largo could learn from this.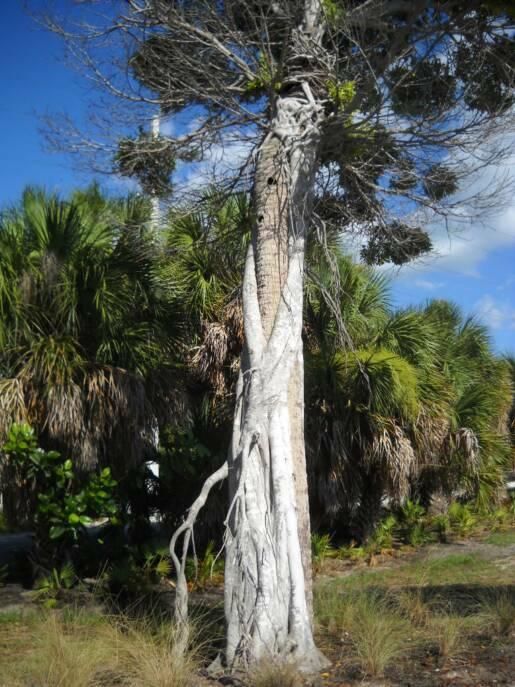 Ever see a tree growing around another tree??.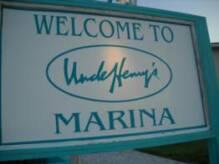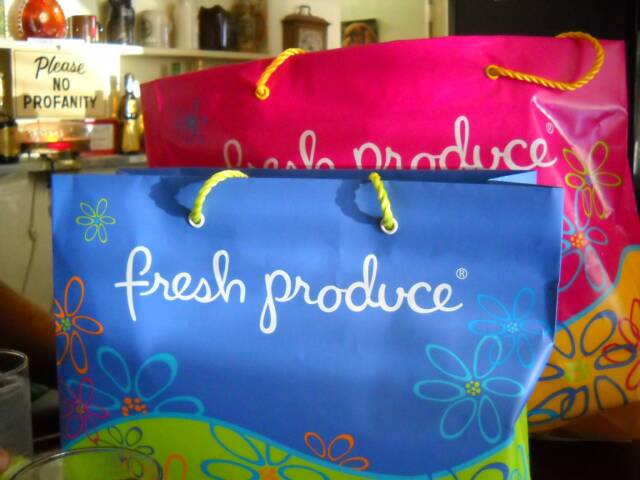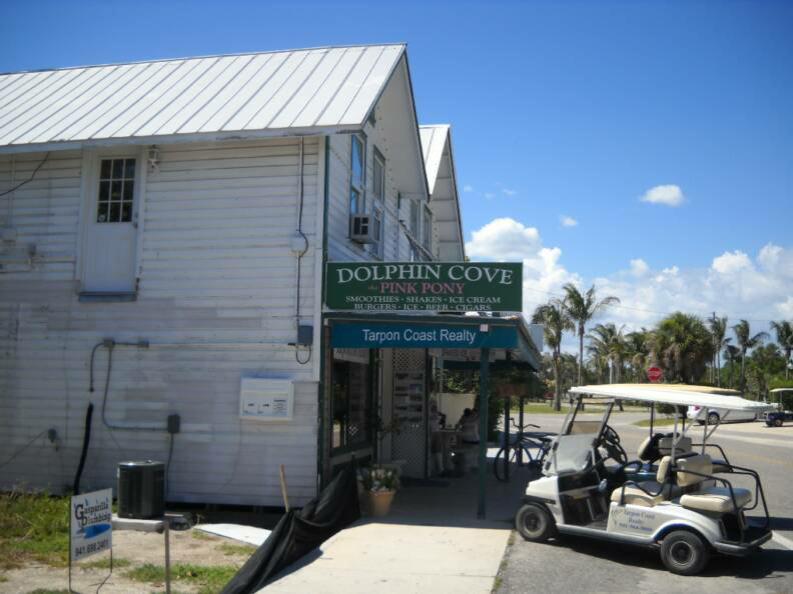 After the beach we took the cart to "downtown" where....

the girls were shopping and 

Billy and I......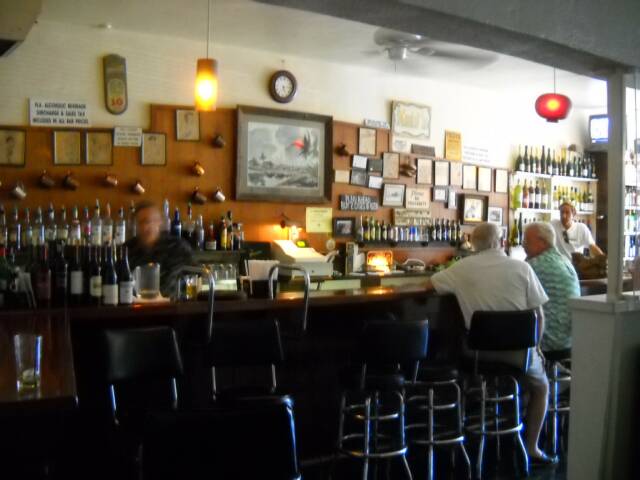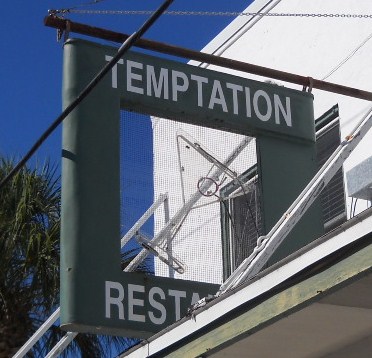 we patiently waited here!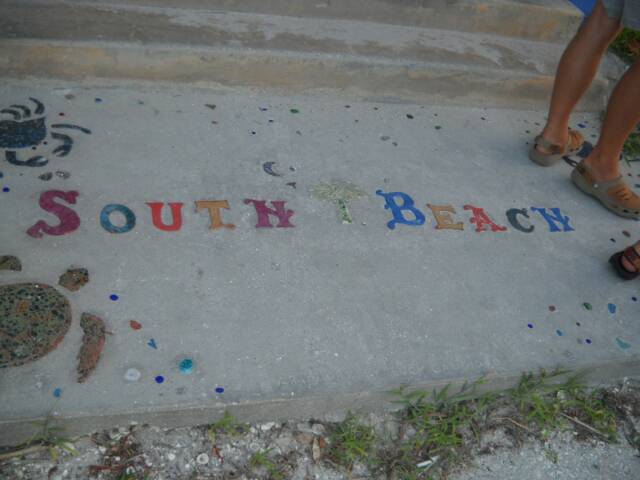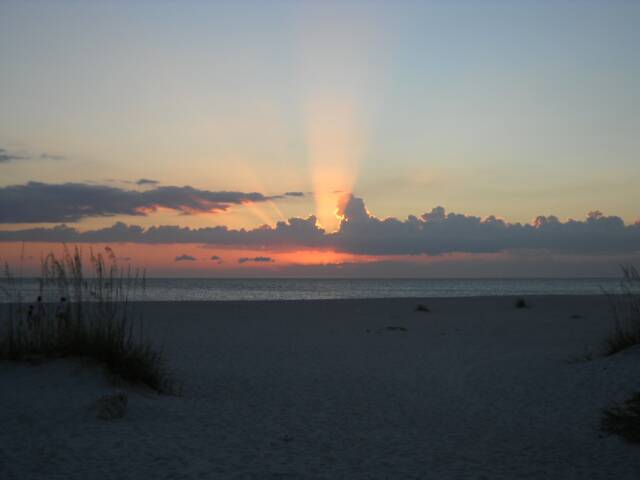 Had dinner at the South Beach on the beach, and watched this sunset.

6/27/10

In the cruising community, there aren't any white picket fences for the women to talk over, instead , they talk over the finger piers on the docks.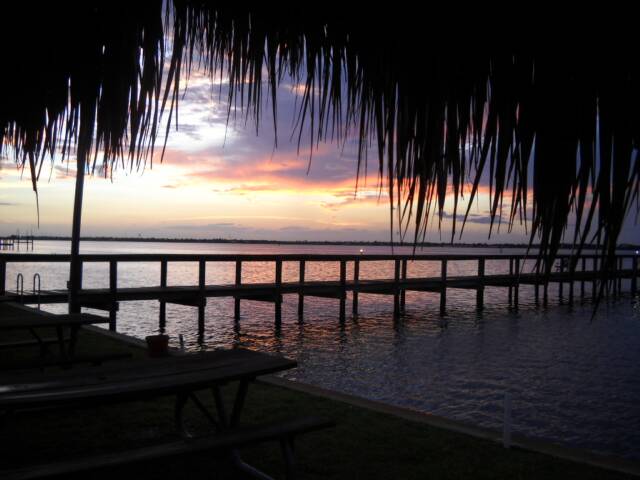 We have been at Burnt Store Marina for two days. Last nite we had dinner and refreshments at the local Elks club.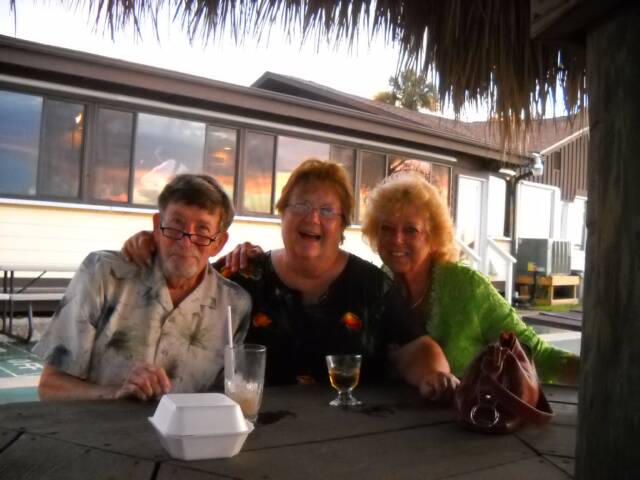 A very special thanks to Stan and Joanne, our very gracious hosts at Burnt Store.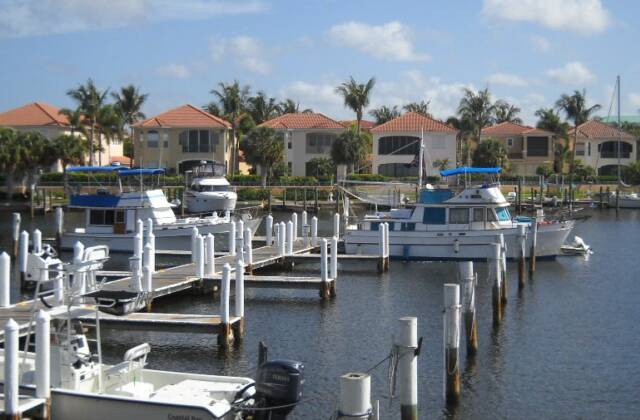 The Sterling Lady and Bill Kit, at rest and in party mode at Burnt Store's Coutesy dock.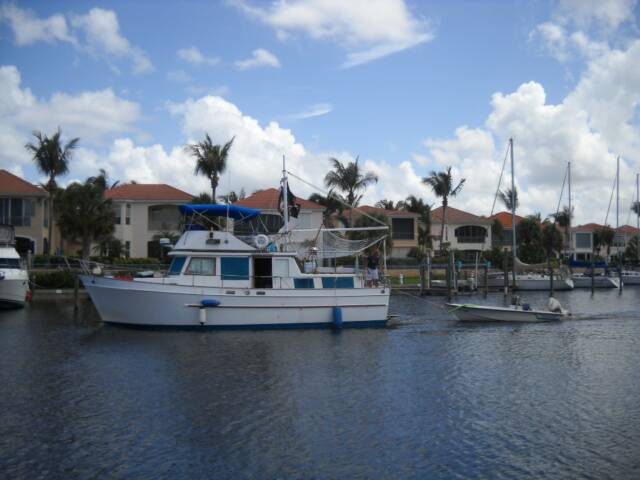 On the morning of the secound day , the Bill Kit headed for Tween waters, where we will meet them tomorrow.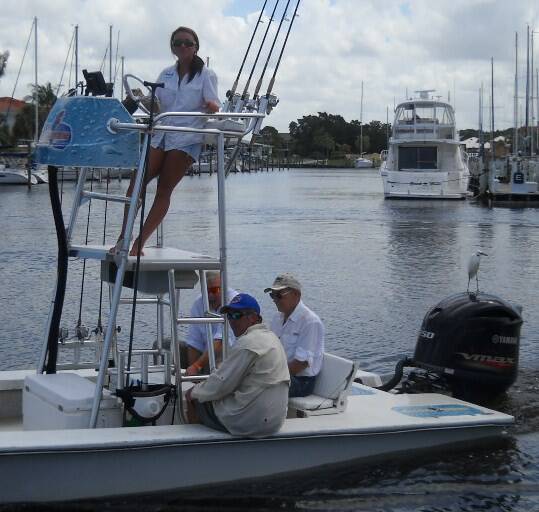 <<<<<<<-----This Guide boat has the Snowy Egret "Ernie" that patiently waits on the motor for and left over bait fish.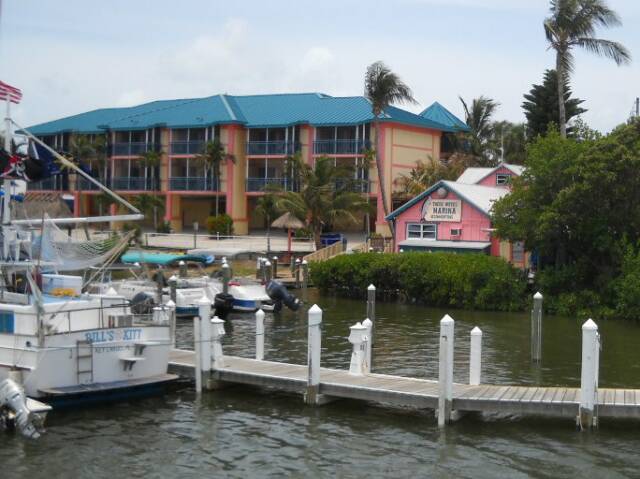 6/22/10

We did a 4 hour cruise down to Tween Waters Marina, on North Captiva. Made the decision to head home. Why? Because it's hotter than HeXX this summer, unseasonably hot. All we

are doing is going to a marina, (too hot to anchor out) plugging in the A/c and sitting on the boat.  It's to hot to do anything but swim! So, we will go home for a month or two, and try again in the fall, with some short cruises in the Keys in between.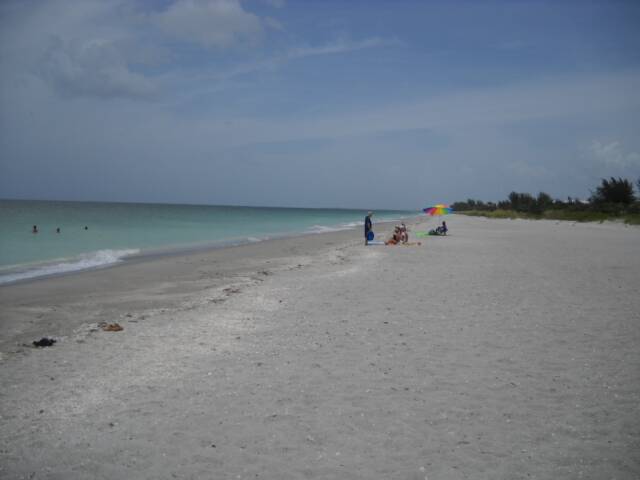 This is why we came here. To cool down.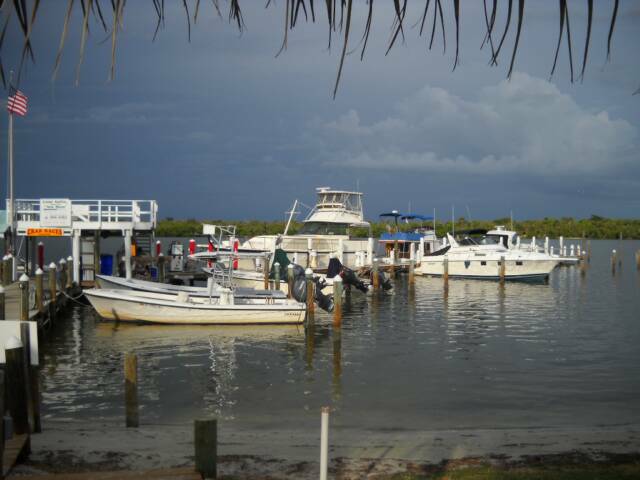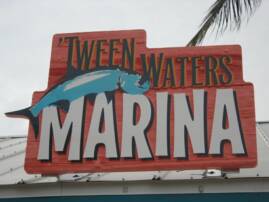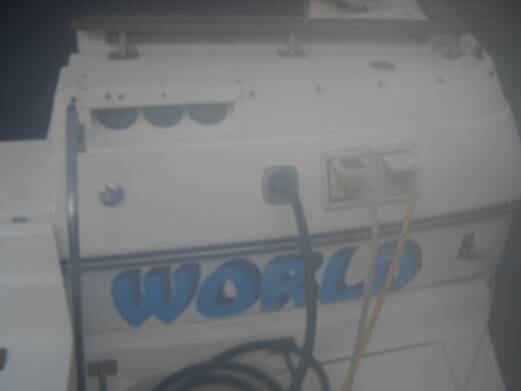 Here is how to Sink you boat in one easy step. 

Hook your water system up to a pressure water hose thru a pressure attachment on the hull. If any part of your water system fails , you boat will sink

.Duh!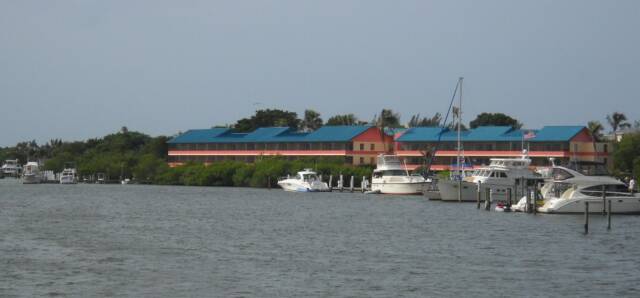 6/23/10

Here's a nice shot of Tween Waters, as we departed.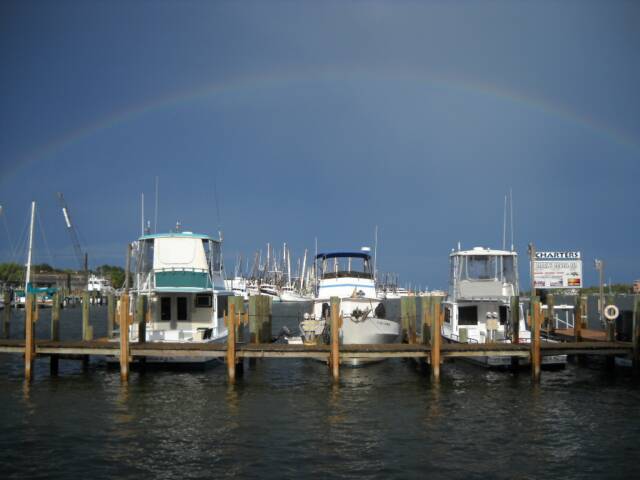 Got a slip at Ft. Myers Beach Marina , well that's the old name, forgot the new name.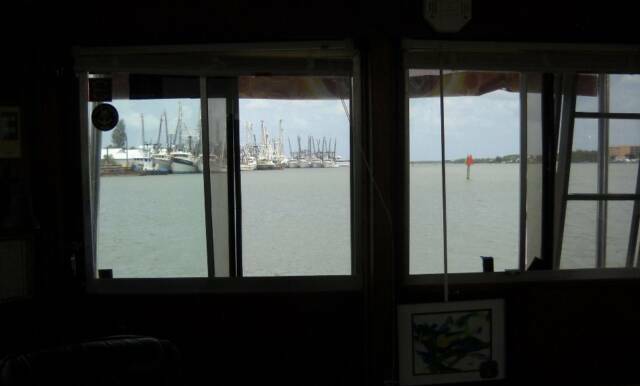 Looking out my Salon aft, the entire shrimp fleet was in, as they normally are up in Texas shrimping , but thanks to BP, they are not.

Never buy anything from BP!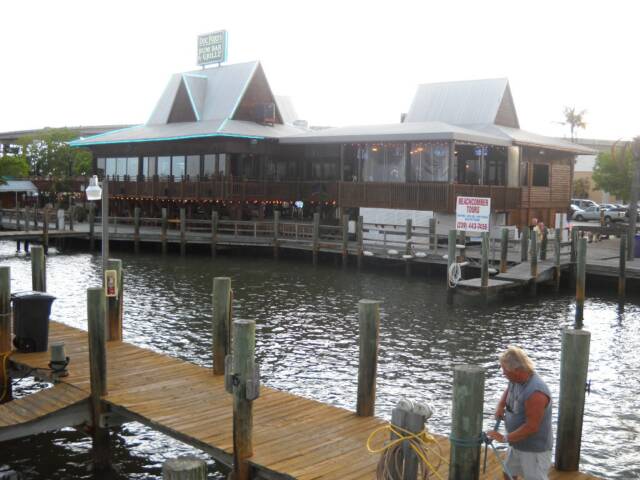 Dinner and drinks were from Doc Ford's. Nice happy hour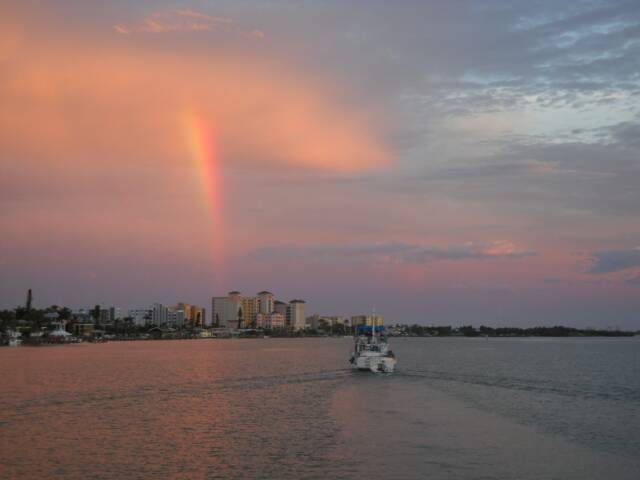 6/24/10

As we followed Bill's Kitt out of the marina, a Rainbow guided our path.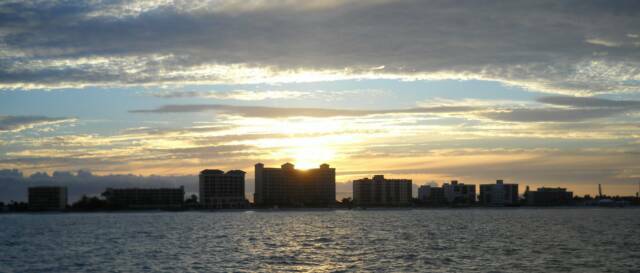 From the Gulf, the sun rose over Ft. Myers Beach

I paralleled Billy's course, and it was very rough in the Gulf today.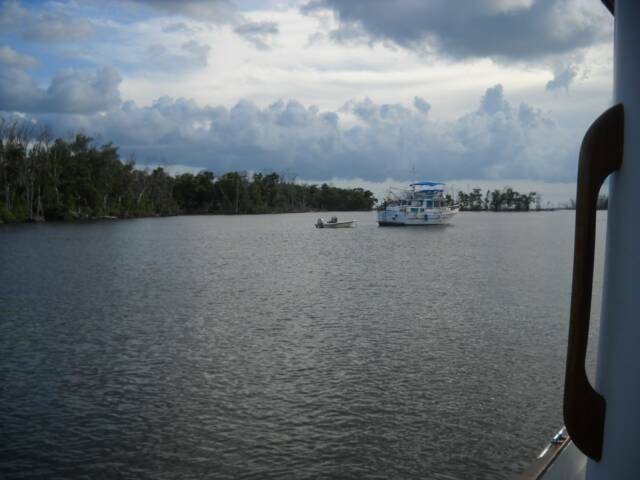 6/26/10

Two days, and after anchoring off Goodland Fl. in the bay, we are anchored in Shark River, one day from home.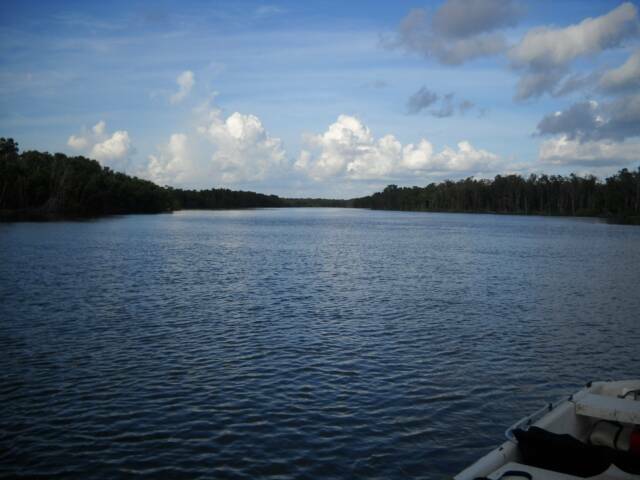 lookin up river from our anchorage.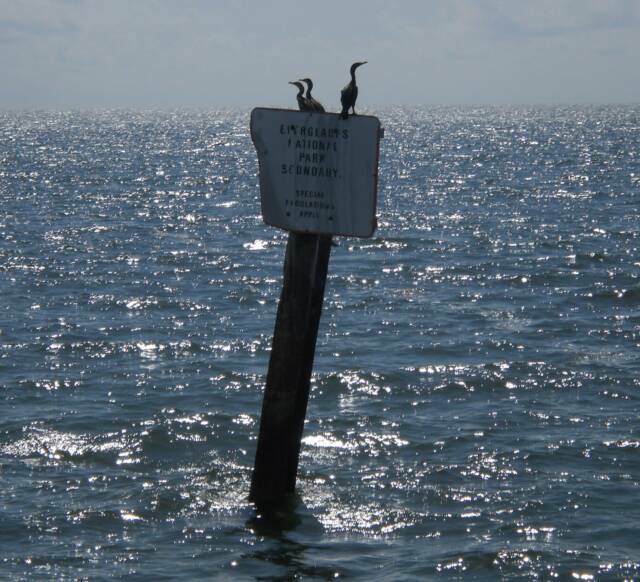 6/27/10

Today will have to be one of those LONG days, as we have to travel from 

Shark River to Key Largo, as family is coming for the 4th. I usually travel just inside the park boundry signs to avoid pots, but there are none as it is not season yet.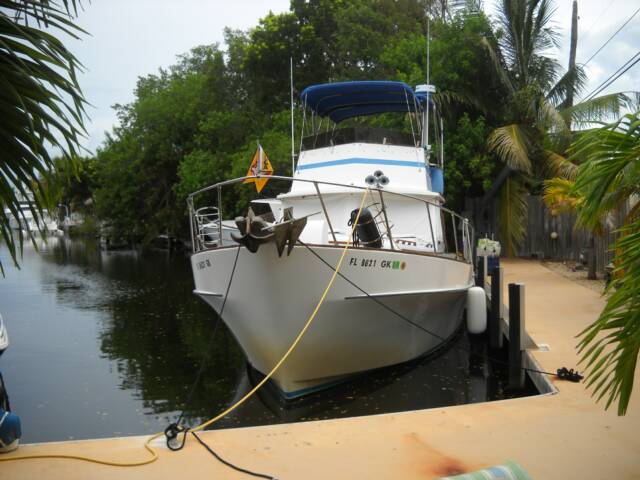 Because of the heat (next year, up north for sure) we are home 6 weeks early. Judy rented her dock, so the Lady will stay a my friend Marcy's house for a while.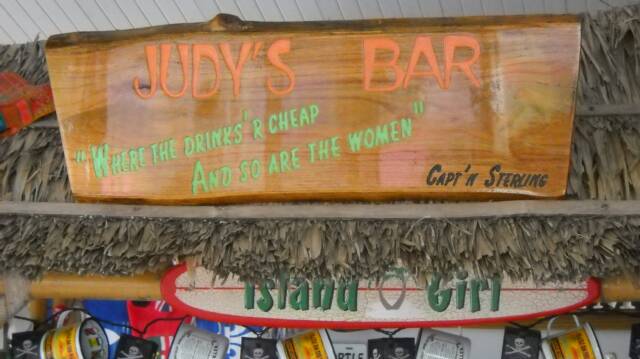 At the wooden boat museum at Welatka Fl, I had this sign made.

For those who don't know, Judy's Bar is the tiki behind Judys house, where I Usually dock the boat.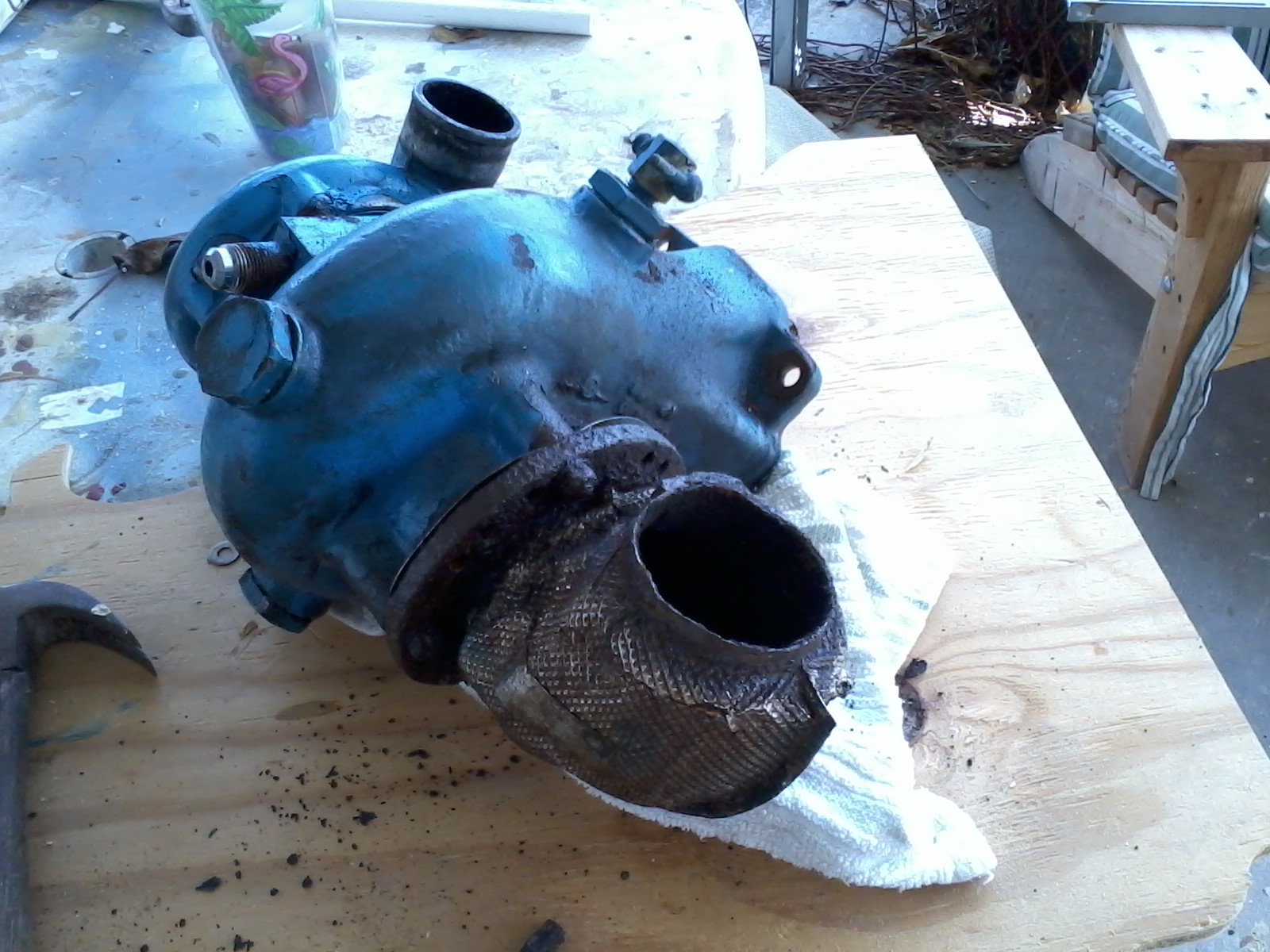 Storm update! 7.22.10

As is normal, we come back to the Keys with the boat and here comes a tropical storm!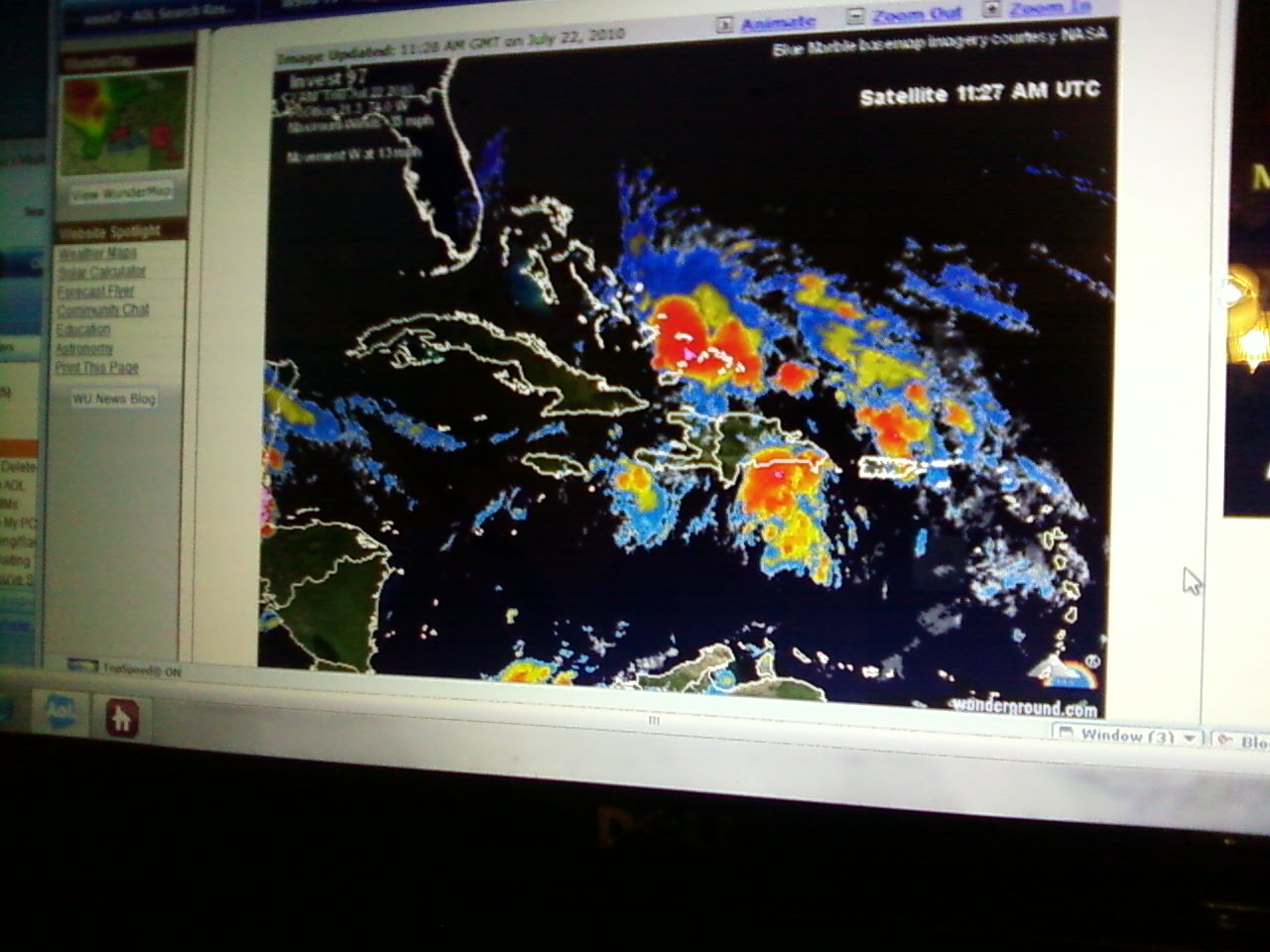 I live on the first island, at the bottom of Florida, and here you can see what's comming. Lots of rain and wind, but nothing major. Life in Paradise has it price.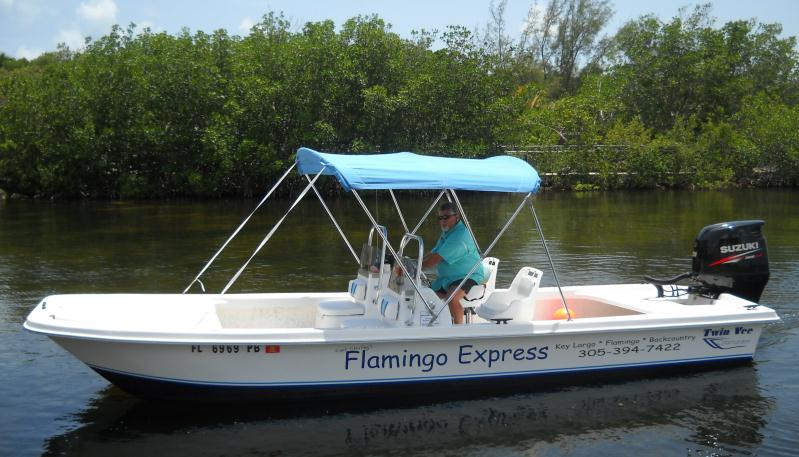 6/13/10

Yikes, Friday the 13th!!

I bought a new 2011 22 Twin Vee Bay Cat boat for the company (and for me really). I knew the girl at the tag place, tis a small island after all. So I asked her for a set of neat FL numbers. This is what she gave me!

Oddly enough, I will have  no trouble remembering these numbers. Hope to be cruising again in two weeks or so. stay tuned.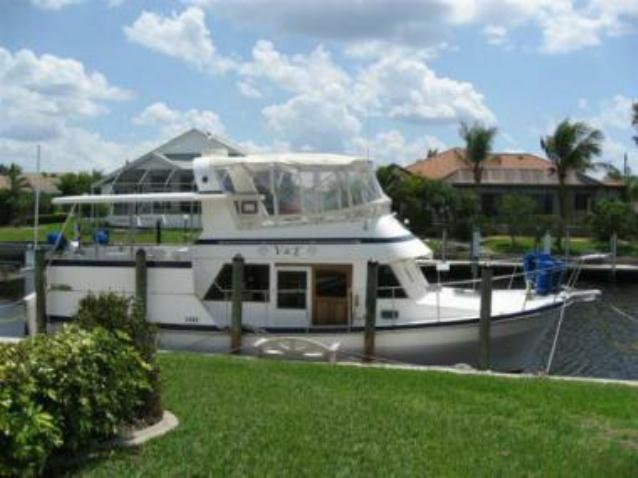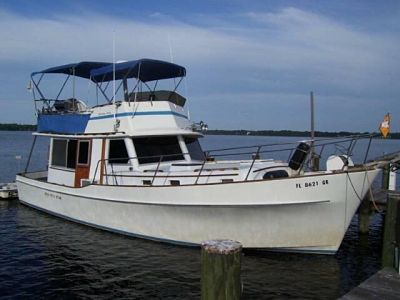 After 5 years, over 19,000 miles (and that's a long way at 6 knots!), 2 loops, hundreds of briges and locks, I have , in fact Sold the Sterling Lady iii.

We  will be delivering  the boat to her new owners, Ray and Kathryn, at Jacksonville Beach, who are gonna take her around the loop again, under the new name of Lady K.  

If you see them , give them a shout.

Not being one to let the bottom grass grow on my feet, I now have this boat under contract. Based on a good seatrial, this 38 ft. Marine trader aft cabin may very well be "the Sterling Lady iv"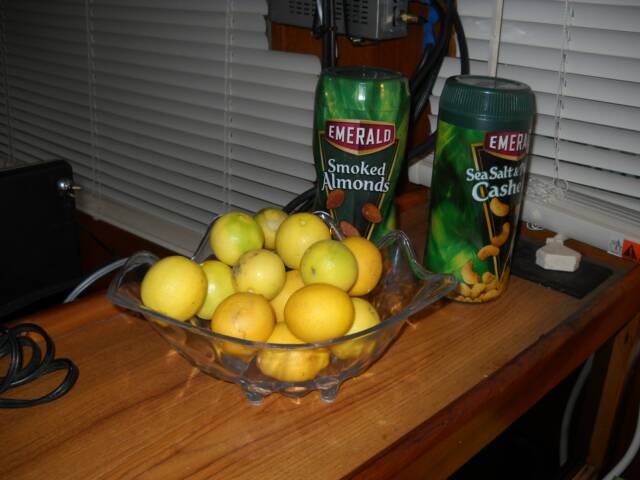 9/21/2010

At Nine AM, after going next door to our neighbors Juan's house to "borrow " some Key limes for the rum, the Sterling Lady left Key Largo for the last time, headed to Jacksonville beach to it's new owners.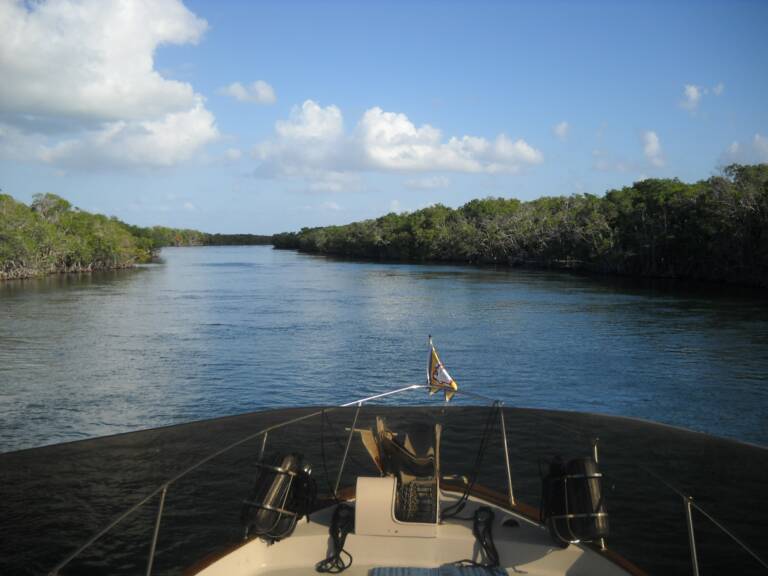 Going thru Doosenbury Creek , Key Largo, for the last time. (as the Sterling Lady)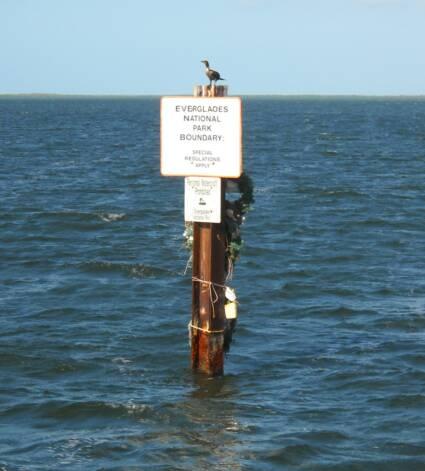 On a sad note, this Everglades Park Marker , that has been in the middle of Blackwater Sound, Key Largo , has 4 reefs hanging from in in memorial of 4 deaths, because..

ITS NOT LIT UP AT NITE!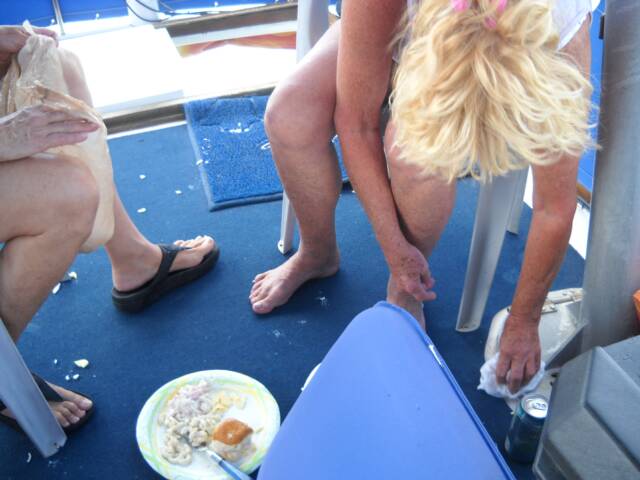 It was blowing 20 knots out of the north east. Our crossing of Biscayne Bay was a bit rough, hence, some of the lunch plates ended up on the floor.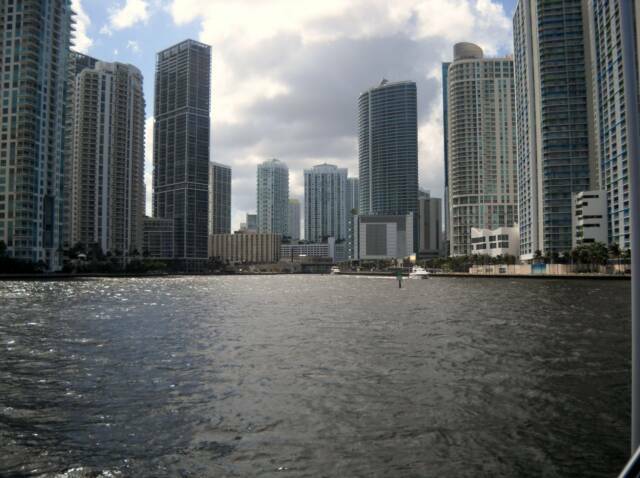 Passing the effluent of the Miami River. A trip I am going to have to take one day. Gotta be interesting.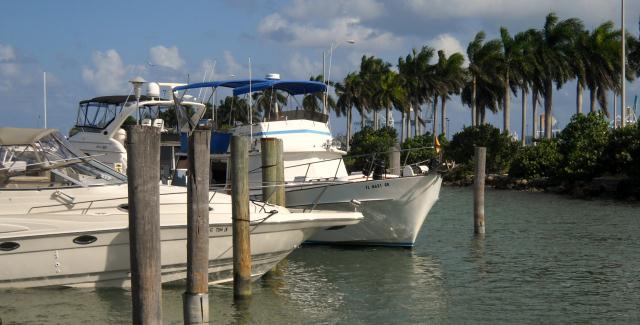 After 7 hours of running, we arrive at the Miami Outboard Club.  Tried to dock at the transient slip to our port, however, our 12 ft 6 inch beam would not fit in the 12 ft beam dock. So we went to the next slip which was a bit wider.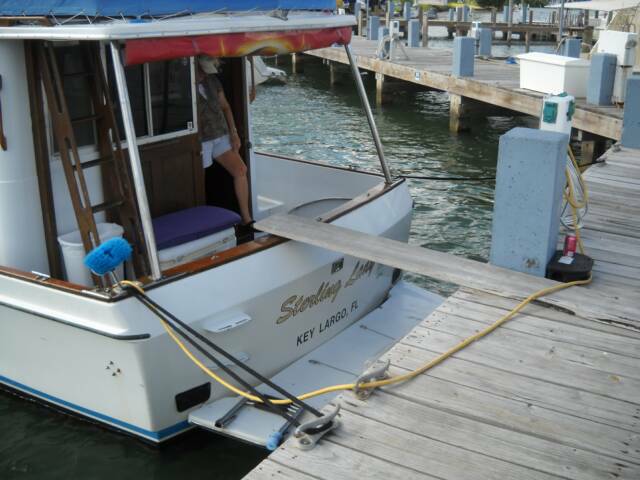 Having towed the dinghy some 1900 miles, this was the FIRST TIME, I got to back the Lady into a slip. It went well, except.......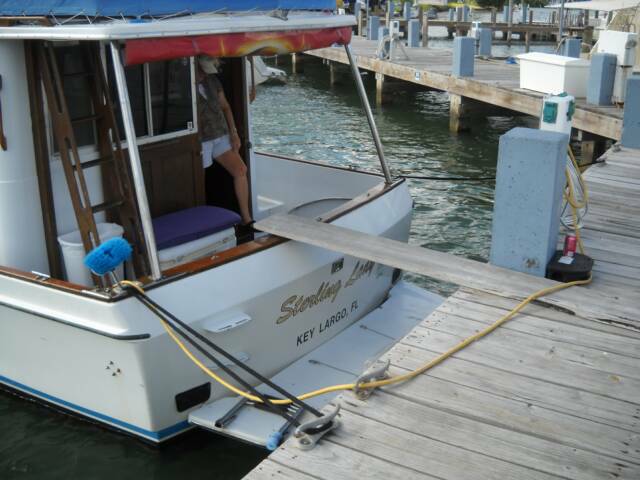 Twas nearly impossible to get on and off the boat. The dock was way too high. Until we pirated the 2 by 10 from the neighboring dock. that worked well.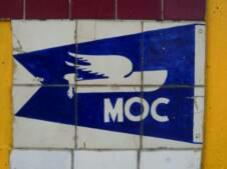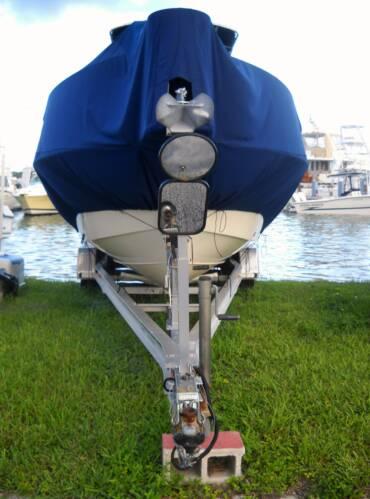 Looks like a  pretty neat idea.

Mirrors on the trailer to line up the ball and trailer.

If it works..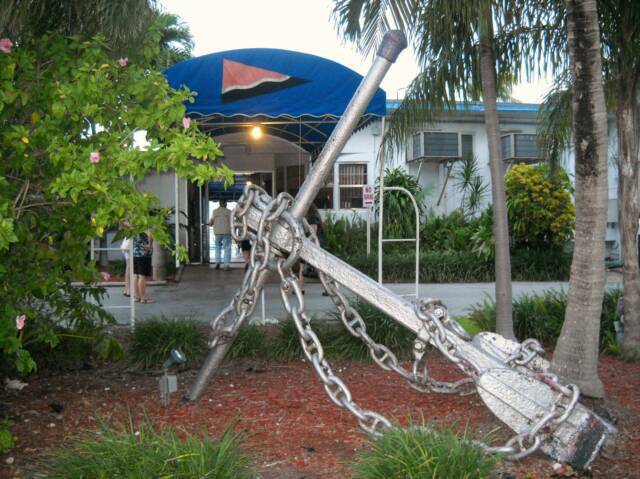 Tonite we had dinner at the Miami Yacht Club, next door, as the Miami Outboard Club was not serving dinner.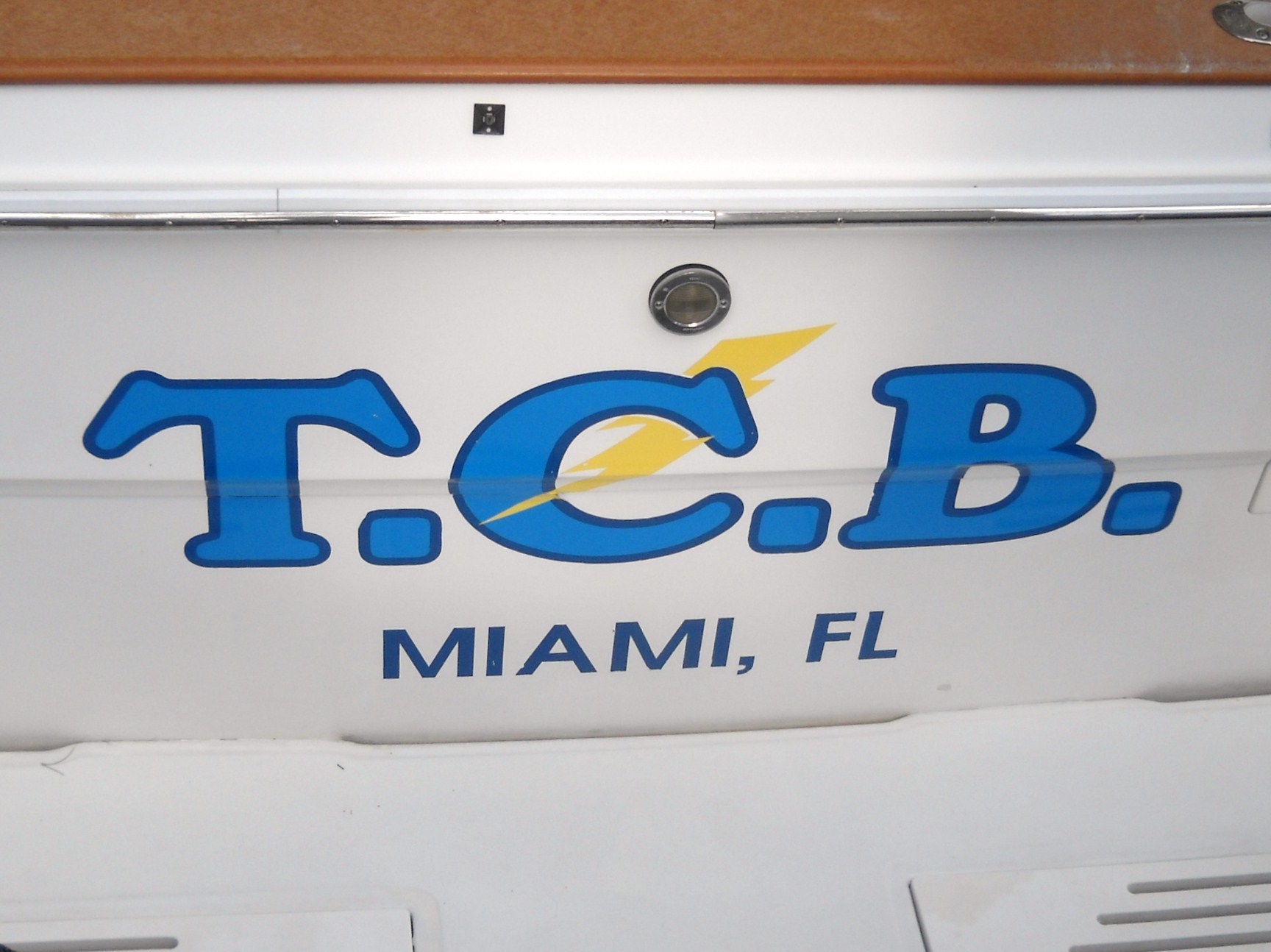 Elvis left his boat here?